Jared Leto's Abs Prove He's Still In Supervillain Shape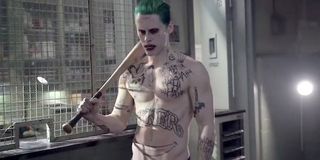 Academy Award-winner Jared Leto recently was feeling his six-pack abs, as were many of his social media followers after seeing a sexy picture the 45-year-old actor shared with the Internet. The photo had many people talking about Leto's "Joker abs" and his upcoming turn in the Suicide Squad spinoffs. It is not clear why Leto posted the picture. Perhaps he wanted the photo to explain his reasons "why so serious" when it comes to diet and exercise. Take a look:
Jared Leto shared the picture of his rock-solid abs with his 9.8 million followers on Instagram. The Joker actor's definition in both his abs and pecs were no joke. As a method actor, Leto fluctuates his weight for roles. For example, he gained 67 pounds to play murderer Mark David Chapman in Chapter 27, and then shed the weight. Then Leto confessed starving himself to lose 40 pounds to play an HIV-positive transgender woman in Dallas Buyers Club, the role that earned him an Oscar. Then he got in incredible shape to play The Joker in Suicide Squad.
As it turned out, the social media picture Jared Leto posted of his abs was old. In the picture Leto had a clean shave, but at the moment he's got a full-grown beard. In fact, the day after Leto posted the picture, he appeared at the iHeartRadio Music Festival with his bandmates from Thirty Seconds to Mars, and he was rocking his bushy, motorcycle-man facial hair. Some people think Leto posted the shirtless picture for Throwback Thursday, but forgot to add the hashtag.
Regardless, Jared Leto did write "Caption this" on the image, and many people took him up on that offer. There were dozens of hilarious comments. For instance, some commenters joked that the sight of his abs was all it took to get them pregnant. Other commenters demanded to see "the rest of the picture."
However, some fans noticed the missing beard, realized the picture was old, and called Jared Leto out. In fact, one superfan even knew that the phone Leto was using for the mirror selfie was one he had back in 2015, but no longer uses. (Talk about commitment as a fan.)
The picture was seemingly old, but Jared Leto still appears to be in great shape, as evidenced by recent photos of him out and about. For example, he looked svelte AF when he went to Rio de Janeiro to play Rock in Rio with his band and to promote Blade Runner 2049. In fact, a bunch of people caught up to Leto while he was walking along Ipanema Beach, and although he was fully clothed, he looked fit.
So, the purpose of the social media picture remains a mystery. Maybe it was for Throwback Thursday. Maybe it was to remind people of the Thirty Seconds to Mars song he put in the hashtag. Or maybe he saw the picture in his past photo albums and realized the world needed to see it. Whatever the reason was, it was right.
Your Daily Blend of Entertainment News