Alec Baldwin Reportedly Had Another Meltdown In New York City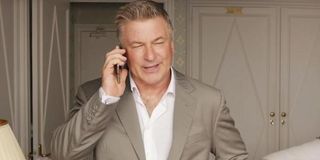 Alec Baldwin is back in the news for temper issues. New reports say the 59-year-old movie and TV star recently had a meltdown while he was walking in New York City. Rumor has it the former 30 Rock actor had heated words for someone driving recklessly near him. A spectator said the conflict brought out Baldwin's bad side, and the actor hurled mean remarks at the driver. Baldwin allegedly called the driver a "meatball" and even told the person to get out of the car for a face-to-face confrontation.
Apparently, the driver raced away from the scene around University Place and 11th Street in NYC. Then the witness watched Alec Baldwin angrily throw a soft drink he was holding onto the street. The bystander told Page Six the frequent guest of Saturday Night Live recorded part of the exchange on his smartphone before chucking his beverage. Thus, whatever happened was serious enough to motivate Baldwin to document the incident. Supposedly, he captured a photograph of the driver's license plate number in addition to taking a recording of the event.
This issue adds to a list of temper tantrums Alec Baldwin has had over the years. For instance, NYC police arrested the actor in 2014 when he became combative after they confronted him for riding a bike in the wrong direction. That episode occurred in the same area of the city as this most recent blow-up. Additionally, Baldwin caught flak for calling an aggressive paparazzo names in 2013. The photographer said Baldwin used a homophobic slur, but the actor later denied that claim and tweeted he had said "fathead." Similarly, Baldwin went on a Twitter rant in 2011 and railed against a Starbucks barista.
Before then, Alec Baldwin faced a media firestorm in 2007 when the media caught wind of an aggressive voicemail the actor had left for his daughter, Ireland Baldwin. In the voicemail, Alec Baldwin dropped expletives, called his daughter a "rude little pig," and threatened to "straighten [her] ass out" because she had missed their regularly scheduled phone call. He said Ireland Baldwin did not "have the brains or the decency of a human being" and had "humiliated" him. After the voicemail surfaced, Alec Baldwin expressed deep regrets. He said the entire saga launched him into a pit of self-destruction that required treatment from mental health professionals.
Since then, Alec Baldwin has tried to remedy his hothead image. Evidently, he has not kept calm all the time, but he has grown. For example, in promotions for Nevertheless, his memoir about overcoming alcohol and drug addiction two decades ago, Alec Baldwin discussed how the voicemail still haunts him, though he and his daughter have rebuilt a loving relationship. So, considering Alec Baldwin wants not to be viewed as hostile, it would be interesting to hear his perspective of the incident with the NYC driver.
Your Daily Blend of Entertainment News