Watch Selena Gomez's Emotional Interview About Her Kidney Transplant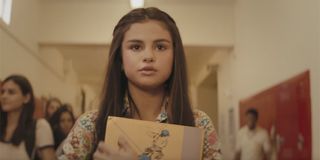 Earlier this year, Selena Gomez revealed the reason she had been noticeably absent from the public spotlight. Though her music was topping charts around the world, she had been recovering from kidney transplant surgery with the help of her dear friend, Francia Raisa. Now Gomez and Raisa have shared details about the harrowing yet heartening details of the surgery. From the sound of it, each day was a battle for the "Wolves" singer, whose health was declining as her her kidneys began shutting down. Take a look:
During the interview, Selena Gomez confessed she did not realize how much her kidney problems were affecting her life and overall health. The 25-year-old pop star told TODAY she was weeks away from needing dialysis. Fortunately, Francia Raisa stepped in and saved the day (and, perhaps, Gomez's life). Raisa, who was living with Gomez when she decided to become the kidney donor, recalled noticing Gomez struggle to open a water bottle one day. Gomez became visibly upset, so Raisa asked for details. Raisa explained,
Apparently, Selena Gomez at first tried to persuade Francia Raisa out of doing it. Raisa stars on Grown-ish, the upcoming spinoff of Black-ish, so Gomez tried to talk her out of the idea of even trying to become the kidney donor. But Raisa did not listen. She went ahead and called Gomez's assistant anyway to set up the details.
In the interview, Selena Gomez emphasized that she was blown away by the way everything worked out. The singer discussed how it is difficult not only to find someone who wants to become a kidney donor but also to find a person who matches the profile of the recipient. Considering those factors, Gomez called the results "unbelievable."
Another aspect of the story that is incredible is the speed with which the process moved. Francia Raisa revealed that such an undertaking usually takes at least six months. However, she somehow managed to do everything on her part "kind of in a day." Check it out:
Francia Raisa discussed the question of whether or not she, herself, feared for her life. The 29-year-old actress explained that she felt some fear going into it. She said the scariest part was having to write her own will before the surgery. Yet, when everything was said and done, Raisa felt "calm."
This touching story is an emotional tearjerker. The fact that Gomez and Francia Raisa discussed their wonderful kidney transplant surgery experience on national television will undoubtedly shine a light on the subject. Furthermore, it helps to raise awareness of the need for additional research on Lupus, the disease that caused Gomez's kidneys to have trouble.
Hopefully, the two of them can continue talking about the experience. It would be interesting to catch up with them a year or two from now. Of course, we'll be sure to update you if and when that happens.
Your Daily Blend of Entertainment News
Your Daily Blend of Entertainment News
Thank you for signing up to CinemaBlend. You will receive a verification email shortly.
There was a problem. Please refresh the page and try again.