When Justin Bieber And Selena Gomez Got Back In Touch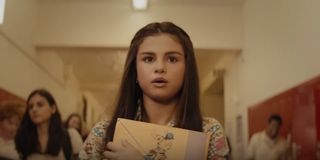 Justin Bieber and Selena Gomez reportedly reconnected this month for the first time in years. Bieber apparently visited Gomez's Los Angeles home, and they spent time with mutual friends. The news by no means implies a rekindled romance. After all, Gomez is dating The Weeknd, who reportedly knew about the October 22 visit and seemingly supported his girlfriend's desire to make amends with her ex. Still, the news says a lot about how much 23-year-old Bieber and 25-year-old Gomez have grown.
Previously, people had not seen Justin Bieber with Selena Gomez in public for a year or longer. From the sounds of it, Gomez wanted to get in touch to make amends with Bieber now that they have had time to move on from the rocky on-and-off relationship they shared between 2010 and 2014. Various entertainment news outlets say the pop singers reconnected at the urging of mutual friends who go to a church Bieber and Gomez both attend. In fact, US Weekly source also says Gomez got in touch "to make peace" after her battle with Lupus landed her in the hospital for a kidney transplant surgery this year.
It is excellent Justin Bieber and Selena Gomez are at a place in life where they can have mature interactions. Perhaps they recognize life is too short to carry pain and resentment. It would make sense because 2017 has been a year of ups and downs for them both. For example, Bieber took heat from some fans who were upset when he canceled his world tour early. Afterward, he made headlines for accidentally driving over a paparazzo. Then Bieber took his tattoo count over 60 with big tattoos that split the opinions of his social media followers.
Similarly, Selena Gomez had a rough go when her battle against Lupus took a terrible turn. The actress ended up in the hospital for a long time, and she needed a kidney transplant with the help of her Hollywood friend, Francia Raisa. Meanwhile, somebody hacked Gomez's Instagram and posted nude photos of Justin Bieber, an act that made Bieber and Gomez the latest in a years-long streak of hackers spreading naked pictures of celebrities.
Conversely, this year's ups for Justin Bieber and Selena Gomez have been remarkable. Bieber had astronomical success with songs like "Friends" and the "Despacito" remix. Similarly, Gomez spent weeks atop music charts with "Bad Liar" and "Fetish" as well as Stargazer's "It Ain't Me."
Plus, while Justin Bieber's tour cancellation frustrated some fans, most understood he was burned out after 150 shows that made $163.3 million in 2016 and $93.2 million in 2017. However, Bieber apologized several times and explained he ended the tour to focus on his mental health and become a better version of himself. Then he started making headlines for positive stories like a trip to a children's hospital. Even the paparazzo whom Bieber ran over said the incident was not Bieber's fault, and the photographer then called Bieber "a good kid."
Likewise, Selena Gomez garnered a lot of praise this year, especially when she revealed her kidney transplant. She received an outpouring of support from fans and social media followers, and many applauded her for raising societal awareness of Lupus.
The romantic chapter of Justin Bieber and Selena Gomez's connection has long since ended, but this new chapter of friendly forgiveness and kindness is lovely. It is inspiring to hear about celebrities growing up and learning from their mistakes. Here's to more stories like this one in the future.
Your Daily Blend of Entertainment News
Thank you for signing up to CinemaBlend. You will receive a verification email shortly.
There was a problem. Please refresh the page and try again.