The Incredible Amounts Of Candy Some Celebrities Are Giving Trick Or Treaters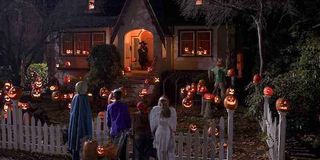 It's that time of year again when little boils and ghouls dress up in their spookiest costumes and go door to door for candy. Trick-or-treating can be one of the best holiday experiences for kids, but it's also fun for adults who hand out candy and get to see the little faces light up with glee. (Unless, of course, the kids are wearing masks.) Anyway, it appears some Halloween-loving celebrities are entirely in the holiday spirit, as new reports say some stars are dishing out tons of Halloween candy this year. Here's a roundup of some of the most impressive candy giveaway plans we've heard about so far.
For kids who want to find the biggest Halloween candy giveaway, one of the best places to go might be the home of Ray J. Norwood (i.e., the brother of Brandy). As TMZ tells it, he and his girlfriend, Princess Love, want to outshine the rest of their neighbors, so they plan to hand out 10 pounds of candy to the costumed kiddos who stop by their place. And not just any candy; we're talking 10 pounds of full-size candy bars. (Say what? Where were these neighbors when I was a kid?)
Many celebrities are letting their personalities show with the candy they give away. For example, celebrity chef Michael Symon apparently wants to make Halloween special by giving away his favorite candy bar, so the 48-year-old restaurant owner and co-host of The Chew plans to hand out full-size versions of Take 5 candy bars, the ones with pretzel, caramel, peanut and peanut butter inside. Personally, Take 5 candy bars are not my fave, but if somebody had given me any brand of full-size candy bar on Halloween when I was a kid, I would have been over the moon. Speaking of which, if you go to rapper Stitches' house, you might be one of the lucky ones who get some of the $500 of candy that is ready and waiting for kids who knock on his door.
Then some celebrities got creative with their Halloween treats this year. For example, Alex Guarnaschelli of the Food Network made homemade chocolate truffles, which my mom and dad would never have let me eat because "There could be a razor in it." (Shout out to everyone else whose parents tossed all homemade Halloween treats.) Similarly, semi-retired professional wrestler Diamond Dallas Page said he wanted to give away organic treats, but he opted to stock up on grab bags instead. (The kids probably love that news.) On the other hand, in a sad-trombone moment, Gilbert Gottfried told reporters he refuses to hand out candy and instead tries to sell it to kids. So, kids should steer clear of his place this year.
Man, I wish my neighbors had been as generous as some of these celebrities. Well, except Gilbert Gottfried, of course. Happy Halloween, everyone!
Your Daily Blend of Entertainment News