How Much Ray J Still Makes From The Kim Kardashian Sex Tape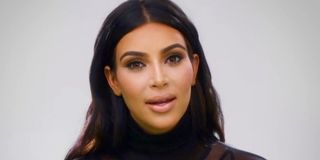 Lest we forget that the road to Kim Kardashian's fame began with a sex tape that she and her ex-boyfriend (television personality and rapper Ray J) created in 2007, the website Pornhub wants to remind us. Last month, the pornography website tweeted a message about the video's tenth anniversary and congratulated Kardashian on being their number one "pornstar." And reports say that both Kardashian and Ray J still make a wild profit from the video to this day. Estimates put the video's total earnings around the $100 million mark, and of course, Kardashian and Ray J both get a hefty chunk of that change.
According to the TMZ partner toofab.com, Ray J, who is the younger brother of R&B singer Brandy, receives royalties in the range of $90,000 once a quarter. This means he's raking in around $360,000 per year... for a homemade sex tape that he and Kim Kardashian made ten years ago. Kardashian reportedly still earns at least as much from the video as Ray J, if not more. Since you are probably wondering how on earth those numbers are possible after ten long years, let us break it down for you.
The pornography distributor Vivid Entertainment illegally distributed the sex tape, called "Kim Kardashian, Superstar," in March of 2007, when Kim Kardashian was still a nobody in a pop culture world saturated with Paris Hilton, Nicole Richie, and Lindsay Lohan. When the video hit the internet, there were people (including Kardashian) who pressed Ray J about whether or not he had posted it as an act of revenge against Kardashian, or a way to strengthen his career. He firmly denied any involvement in the leak, and no one could prove who exactly released it.
By the end of 2007, E! had moved on from Paris Hilton and decided instead to introduce Kim Kardashian to the world in a venture following her family. So when the sex tape leaked, Kardashian filed a lawsuit against Vivid Entertainment and received help from Joe Francis, the creator of "Girls Gone Wild," to acquire the rights to the video for $4.5 million. Since then, the video has received more than 210 million views across online, DVD, and television formats.
There have even been upticks in the viewership of the video that seem to follow the most highly publicized moments of Kardashian's personal life, such as her marriage to and divorce from Kris Humphries, her marriage to Kanye West, and her appearance on the cover of Paper Magazine. Even the terrifying robbery at gunpoint that Kim Kardashian endured in Paris somehow led to a spike in interest surrounding the sex tape. Every click and view along the way has meant more money in the bank for Kardashian, Ray J, and the people involved with the distribution.
Kim Kardashian managed to use the sex tape as a trampoline to leap into powerhouse celebrity. The pendulum of fate swung in a different direction for Ray J's career. However, when Kim Kardashian and Kanye West married, Ray J reportedly got in a dig by offering them a monetary "gift" of nearly $50,000 from his sex-tape royalties.
So, what do you think about the reported earnings of the sex tape? Let us know in the comment section below.
Your Daily Blend of Entertainment News
Thank you for signing up to CinemaBlend. You will receive a verification email shortly.
There was a problem. Please refresh the page and try again.