Lamar Odom Collapses At Nightclub After Night Of Drinking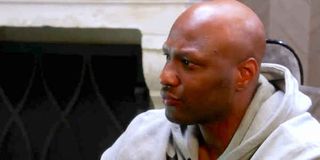 New reports indicate Lamar Odom is slipping back into his old bad habits. Over the weekend, people at the Bootsy Bellows nightclub on the Sunset Strip in Los Angeles got a close-up glimpse of his back-to-black behavior when they observed the 38-year-old former NBA star collapse in a VIP lounge. In fact, some people even recorded video of the incident and sent it to various entertainment news outlets.
TMZ, for example, published a recording of Lamar Odom passed out. In the recording, viewers can see staff members from the club racing into the VIP lounge to assist Odom after he had fallen to the ground around 2:00 a.m. The celebrity gossip site also said Odom's representative tried to explain away the incident by saying it had to do with severe dehydration Odom had experienced after a hard workout that day. Also, the representative allegedly insisted Odom was "doing great." However, there supposedly were witnesses who saw the father of three drinking for hours upon hours before he hit the ground. This information, of course, directly contradicts the idea that Odom is doing well at all, as he previously has talked about his desire to live a clean and sober life (and his urgent need to do so).
Back in October 2015, Lamar Odom wound up unconscious when he overdosed on cocaine and other substances during a three-day bender at the Love Ranch in Crystal, Nevada, and he wound up in the hospital for three months. Khloe Kardashian, who was his estranged wife at the time, was by his side when he woke up. The Keeping Up with the Kardashians celebrity stayed by him during his early struggles, but she eventually divorced him when she saw pictures of him drinking alcoholic beverages at a shopping mall in 2016.
Later that year, Lamar Odom entered and finished a 30-day stint in rehab. He sought treatment of his own accord but also with the encouragement of his daughter, Destiny, who told him to choose either a relationship with her or a relationship with drugs and alcohol. This year, Odom detailed aspects of his addictions and his struggle to stay sober in the lengthy essay "Done in the Dark," which he penned for The Players Tribune. In the essay, Odom revealed in no uncertain words,
In the essay, Lamar Odom discussed how traumas from his past influenced his decisions to drink and try drugs over the years. Odom cited the loss of his mom to colon cancer when he was 14 as a major devastation he experienced in childhood that led him to self-medicate. Then, he talked about losing his six-month-old child to sudden infant death syndrome and how the emotions underneath that loss manifested in depressive behaviors and drug use.
It sounds like Lamar Odom is still playing with fire. Hopefully, this moment serves as his wake up call.
Your Daily Blend of Entertainment News