Glee Star Naya Rivera Arrested For Battering Husband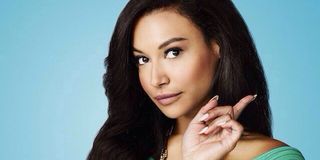 Over the weekend, police in Kanawha County, West Virginia arrested and booked television actress Naya Rivera on alleged charges of misdemeanor domestic battery after she reportedly got into a physical altercation with her husband, Ryan Dorsey. The authorities released Rivera after she posted a $1,000 bail. Then her father-in-law picked her up. Beforehand, however, she had to take an official mugshot:
The arrest took place after a deputy responded to a complaint where Ryan Dorsey and Naya Rivera were staying in Chesapeake, West Virginia. The deputy recorded Dorsey's accusation Rivera hit him in the face and head and left him with minor injuries to back up his domestic abuse allegations. Apparently, Dorsey also submitted evidence in the form of a video recording he took during the fight. When Naya Rivera left the courthouse on Saturday night, WOWK 13 reporters documented her departure and tweeted out the video. Take a look:
The WOWK 13 reporter on the story later tweeted the criminal complaint stated Naya Rivera's husband Ryan Dorsey had told authorities Rivera struck him in the head and bottom lip when they were on a walk with their child. However, the statement from the Kanawha County Sheriff's Office said Dorsey did not need medical attention after the altercation.
From the sounds of it, Naya Rivera's life has been somewhat of an emotional roller coaster in recent times. She seemed to find a new professional footing as Collette Jones on the television series Step Up: High Water, one of her first gigs to stick since she wrapped up her time as Santana Lopez on Glee from 2009 to 2015. However, while Naya Rivera's professional activities were going fine, her personal life seemed chaotic. The actress filed documents to divorce Ryan Dorsey in November 2016. She even sent out a statement to various entertainment news outlets and said,
Throughout 2017, matters between Naya Rivera and her husband seemed to improve. In April, for example, Rivera told Momtastic she and Dorsey were good at co-parenting. Then in October 2017, Dorsey and Rivera announced they had decided to recommit to their marriage. Rivera attended the annual Point Honors Los Angeles Gala at the Beverly Hilton Hotel in October, and there she told People it was a personal decision to stay with Dorsey. She also said,
Of course, it is unclear where Naya Rivera and Ryan Dorsey now stand or if they will stay together after this incident, but stranger things have happened. In fact, Dorsey and Rivera's relationship has never been conventional. They dated way back in 2010 but then split up. Rivera went on to date rapper Big Sean and even got engaged to him, but then when Rivera and Big Sean split up in 2014, she linked back up with Dorsey and married him three months after calling it quits with her previous fiance.
Now Naya Rivera and Ryan Dorsey share a two-year-old son, Josey, and the actress has said many of her decisions hinge upon what she thinks is right for him. Perhaps in the wake of this incident, Dorsey and Rivera can find time to think deeply about what will be in the best interest of their son moving forward.
Mugshot Courtesy of Kanawha County Sheriff's Office
Your Daily Blend of Entertainment News
Thank you for signing up to CinemaBlend. You will receive a verification email shortly.
There was a problem. Please refresh the page and try again.