Ryan Phillippe Denies Domestic Abuse Claims By Ex-Girlfiend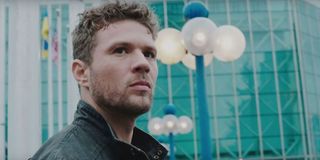 In July, Ryan Phillippe's 21-year-old ex-girlfriend, Elsie Hewitt, claimed Phillippe went into a drunken rage and struck her, kicked her, and pushed her down a flight of stairs at his home. Hewitt reportedly filed a police report, received a temporary protective order, and seeking $1 million in damages. Now Phillippe apparently has offered an entirely different story of what happened that evening. In court documents filed in response to Hewitt's allegations, the 43-year-old Shooter actor allegedly maintains it was she, not him, who went into an alcohol-fueled frenzy. Phillippe reportedly said Hewitt broke into his home, started an argument, and manufactured a story about a physical altercation to save face, promote her career with Wilhemina Models, and extort him for an easy payday.
New court documents Ryan Phillippe or his liaison filed on November 17 apparently reveal how different Phillippe's side of the story is from Elsie Hewitt's. Phillippe supposedly painted a picture of a situation in which Hewitt arrived "extremely intoxicated" at his house and broke in "in the middle of the night without permission." Phillippe allegedly claimed the entire ordeal that occurred afterward was nothing but an "unjustified attempt to extort money."
In fact, Phillippe reportedly accused Hewitt of submitting "a false report to the police" and "wrongfully accusing [him] of injuring her." At one point, the father of three children--two with Reese Witherspoon and one with Alexis Knapp--apparently added he "was raised by women in a household where women's rights, feminism, and advocacy were very much at the forefront, and he is sickened to have been falsely accused of domestic violence."
A Los Angeles Police Department spokesperson verified the existence of a police report concerning the supposed physical assault. The spokesperson also told People the report granted Elsie Hewitt an emergency protective order, which expired July 12. Other court documents allegedly revealed Hewitt's perspective of the incident. She reportedly described ignoring Ryan Phillippe at a party, which he then left in anger. Hewitt apparently went back to Phillippe's house with her friend to pack up her belongings, and then the supposed physical assault took place.
In the documents, Elsie Hewitt allegedly accused Ryan Phillippe of "repeatedly abusing a panoply of legal and illegal drugs, including without limitation: cocaine, ecstasy, psychedelic mushrooms, and steroids ..." Hewitt also reportedly claimed Phillippe "increasingly combined these drugs with excessive alcohol consumption and often exhibited symptoms attendant of polydrug and alcohol abuse, including mood swings and bouts of anger." Apparently, the criminal investigation over the domestic abuse allegations came to a close in September when authorities closed the case. However, Hewitt subsequently filed a civil lawsuit.
If Elsie Hewitt did bring a friend with her to Ryan Phillippe's house back in July, there is a possibility that the person witnessed what did or did not take place that evening. This matter sounds like it will be ongoing for a while. We'll stay tuned to see how everything proceeds.
Your Daily Blend of Entertainment News