Cory Monteith And Naya Rivera Join Glee Project As Mentors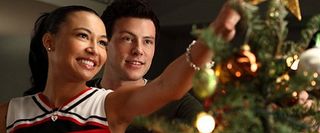 Two more Glee cast members have signed on to act as mentors in the upcoming second season of The Glee Project. Cory Monteith and Naya Rivera will join Lea Michele on the Oxygen competition show that seeks out new talent for the hit; four of the competitors from the first season have appeared on Glee. One of last year's winners, Samuel Larsen, is also on board to mentor.
Lea Michele was already set to mentor in the premiere episode, where she'll be working on the theme of "Individuality" with the 14 contestants. The Hollywood Reporter says the other three already have their themes to take on as well.
Samuel Larsen, who was the co-winner last season, will appear in episode two, centered around "Dance-ability". Larsen was one of the four from last season who appeared on Glee this season and will now come back to the site of his triumph to offer guidance to new hopefuls. In the third episode Cory Monteith will be addressing the issue of bullying; the theme of the episode is "Vulnerability". Finally, Naya Rivera will get Episode 4, where she'll be giving some tips on "Sexuality".
The bigger and longer second season of The Glee Project is set to premiere on June 5th in its new timeslot: Tuesdays at 10 PM. Oxygen has expanded the second season by one episode, making it 11 episodes long, and added two more contestants, up to 14 from last season's 12. No doubt we can expect to see a few more Glee stars stop by as mentors.
Your Daily Blend of Entertainment News
Thank you for signing up to CinemaBlend. You will receive a verification email shortly.
There was a problem. Please refresh the page and try again.