Tupac's Ex Is Trying To Sell Nude Photo Of The Rapper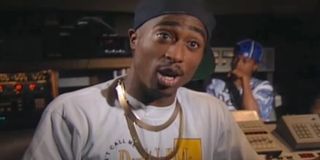 The late rapper Tupac Shakur rapped "All Eyez On Me." Now his ex-girlfriend is ready to let all eyes on a picture of his privates. The image apparently originated at a house party in the San Francisco Bay Area in the mid-1990s. The ex-girlfriend allegedly wants a quick payday from the personal snapshot, so she has attached a hefty price tag of $7,500.
If the price is right, and you are interested in buying this extra-personal picture, act fast because the photo already has the attention of at least one auction house, Gotta Have Rock and Roll, which buys and sells celebrity memorabilia. The company says it wants to place a bid, but the ex-girlfriend evidently wants private bidders (which shouldn't make me giggle but does).
Reportedly, Tupac Shakur used to try to shock his friends by pulling down his pants and whipping out his Johnson. (Blame it on the '90s?) Supposedly, the ex-girlfriend followed Shakur around with a camera at the party and said if he did not keep his pants on she would snap a photo of his junk. When Shakur went against the ex-girlfriend's wishes, she clicked the camera and caught the pic.
TMZ nabbed a look at an edited version of the picture and says it's the real deal, but it will still cost a pretty penny to own. The ex-girlfriend says she has other photos of Tupac Shakur hanging out at parties back in the day. He kept clothes on for all of those pictures, but there might be a market for them if she shops around.
It is worth noting the ex-girlfriend's decision to price the picture at $7,500 sounds steep but could be low. After all, a letter Tupac Shakur wrote to Madonna from jail made headlines earlier this year when Madonna's former friend, who had possession of the letter, wanted to auction it off for more than $100,000. In fact, the auction house with which Madonna's former friend worked was Gotta Have Rock and Roll, the same company that wants to get its hands on this picture.
Madonna later went to court to keep the letter and several other items from being auctioned off by her former friend, whom she said had taken the items without permission. Still, a different letter Tupac Shakur sent out from jail sold for $170,000, so clearly, there is a big market for personal items of Shakur's. And this is pretty personal.
But, who knows? Maybe the ex-girlfriend got it appraised before she asked for money. (Can you imagine that awkward conversation? "I would like to sell a picture of my late ex-boyfriend's manhood.") We'll have to stay tuned to see how this all works out. It's unusual that she's hawking this picture, but stranger things have happened.
Your Daily Blend of Entertainment News
Your Daily Blend of Entertainment News
Thank you for signing up to CinemaBlend. You will receive a verification email shortly.
There was a problem. Please refresh the page and try again.