How Selena Gomez Felt After Her Major Kidney Surgery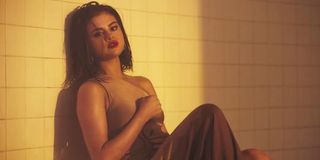 This year, Selena Gomez underwent a kidney transplant surgery to restore her health when her organ began failing due to complications related to Lupus. The 25-year-old pop star has long been candid about her health struggles, but since telling the world about the surgery, Gomez's words have taken on a new inspirational nature. This tone was evident in a recent interview in which Gomez spoke about how the operation renewed not only her health but her appreciation for the chance to live in her specific skin. For instance, Gomez said,
Selena Gomez shared the heartening observation in an interview for Billboard, which named her its Woman of the Year. It is fascinating to hear Gomez say she felt her body was not her own from the age of 7. Gomez has been one of Hollywood's hardest workers since she was a kid on Barney & Friends and Disney's Wizards of Waverly Place. It is excellent Gomez recognizes her innate power, which no company, job, or person can take away from her. Perhaps this mental strength is a surgery bonus in addition to the physical strength Gomez hopefully now feels.
In the interview, Selena Gomez also talked about how she now recognizes she is "wonderfully made" despite--or perhaps because of--things she once thought were flaws, including the scar from her kidney surgery. Gomez even said if she ever decides to get plastic surgery later in life, she would not feel bad as long as she felt the decision were hers.
This recent interview shed light on where Selena Gomez is today. Not long ago, Gomez and Francia Raisa, the friend who donated a kidney to Gomez, spoke about the events that led up to the surgery. From the sounds of it, the journey went extraordinarily fast. Gomez said even small aspects went quickly. For example, paperwork that takes weeks took a day or two. No wonder Gomez now is in a period of profound reflection about her body and life. This year has been life-changing for her, and it all happened at the speed of light.
As a side note, Selena Gomez posted an angry Instagram photo and message to Billboard after the article published. Then she momentarily made her social media private but later went public again. Apparently, Gomez disliked a bit about a teddy bear in her home. The reporter wrote Gomez received it as a gift from someone but had not removed it. After Gomez's Instagram blowup, some social media commenters said the gift might have come from The Weeknd, with whom Gomez recently split. Regardless, the bulk of the article contained inspiring moments.
Selena Gomez (mostly) seems to be in a great space these days. She has been through a harrowing year of ups and downs, and at the end of it all, she is still on top.
Your Daily Blend of Entertainment News
Thank you for signing up to CinemaBlend. You will receive a verification email shortly.
There was a problem. Please refresh the page and try again.