Olympic Gymnast Mckayla Maroney Is Suing Her Former Team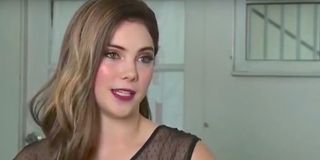 Olympian McKayla Maroney has filed a lawsuit against USA Gymnastics for its ties to serial child molester Dr. Larry Nassar. In November 2017, Nassar pleaded guilty to criminal sexual misconduct for molesting ten girls and possessing child pornography. In October 2017, Maroney publicly accused Nassar of molesting her from the age of 13. Now Maroney says USA Gymnastics attempted to keep her quiet about the sexual misconduct, by her sign a non-disclosure and non-disparagement agreement in October 2016. In a statement, John Manly, the attorney for the 22-year-old retired gymnast, called the agreement "hypocritical, immoral and in this case illegal" and explained,
John Manly shared the statement with NBC News. Lawsuit documents explain McKayla Maroney "remains traumatized, gripped by depression and anxiety and terrified" because of a likelihood Dr. Larry Nassar photographed her while "sexually abusing her under the guise of treatment." Apparently, Maroney believes Nassar shared graphic photos of her with other pedophiles. Now Maroney "continues to worry, distress, experience concern, anxiety, and depression over" the whole situation, especially the implication the photographs might be circulating the web with a chance of surfacing one day. Maroney says the trauma she experienced stopped her gymnastics career, so she is also seeking damages from USA Gymnastics, the U.S. Olympic Committee, Nassar, and Michigan State University, where he kept a sports medicine practice.
USA Gymnastics gave a slightly different story in a statement to The Wall Street Journal. A spokesperson for the organization maintained the agreement was something McKayla Maroney's former attorney, Gloria Allred, initiated. The spokesperson stated Allred reached out "requesting that the organization participate in a confidential mediation process," which ostensibly resulted in the agreement. Such processes, sometimes involving non-disclosure agreements with monetary benefits and penalties, have become controversial in the wake of allegations about high-profile sexual misconduct cases in Hollywood and elsewhere.
Nevertheless, the spokesperson said USA Gymnastics could not "speak to the mediation process, which is confidential and privileged under California law." In fact, the spokesperson expressed USA Gymnastics' "disappointment" over the lawsuit but continued support of "McKayla and others who speak up against abusive behavior---including the despicable acts of Larry Nassar." The statement corresponded with USA Gymnastics' previous social media praise for McKayla Maroney, when she went public with her accusations against Nassar. Regardless, the agreement reportedly stipulated Maroney could face a fine of more than $100,000 for speaking out about any sexual misconduct that happened to her. Considering this point and others, John Manly later told ESPN (opens in new tab),
Lawsuit documents describe McKayla Maroney's charges of horrific experiences with Dr. Larry Nassar. For example, Maroney alleges Nassar touched her private parts with an ungloved hand in the name of "treatment" many times. Maroney also describes an alleged situation in which he "mounted" her while he had an erection.
Dr. Larry Nassar was a physician for the United States national team for more than 25 years, during which he interacted with hundreds of top athletes. Since an October 2016 report by The Indianapolis Star (opens in new tab) revealed two molestations claims against Nassar, more than 140 women have come forward with complaints against him. As mentioned, he recently pleaded guilty to federal child-pornography charges and first-degree state sexual-abuse charges, receiving 60 years in prison.
It is worth noting the U.S. Olympic Committee says it did not have anything to do with the non-disclosure and non-disparagement agreement, and in a statement, the Committee indicated its sadness for and support of the victims. Also, by speaking out, McKayla Maroney joined fellow 2012 Olympics teammates Gabby Douglas and Aly Raisman, who said Dr. Larry Nassar molested them, too. Evidently, Maroney's case against USA Gymnastics, the U.S. Olympic Committee, Nassar and Michigan State University seems to have many elements. We'll stay tuned.
Your Daily Blend of Entertainment News
Thank you for signing up to CinemaBlend. You will receive a verification email shortly.
There was a problem. Please refresh the page and try again.