Glee's Mark Salling Pleads Guilty To Child Pornography Possession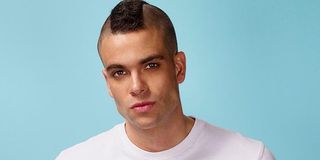 Former Glee actor Mark Salling, who played Puck on the show, now has pleaded guilty to possession of child pornography involving a prepubescent minor, and now he is set to receive a formal sentencing on March 7. Salling has been facing this particular case for about two years, and now it looks like he stands to get prison time. Here is what we know.
The initial arrest occurred on December 29, 2015, when detectives of the Los Angeles Police Department's Crimes Against Children Task Force obtained a warrant and seized Mark Salling's laptop, hard drive, and 16 gigabyte USB flash drive. Reportedly, the authorities had received a tip from Salling's ex-girlfriend.
Afterward, Mark Salling pleaded not guilty to two charges in connection with child pornography in July 2016. Reportedly, he got released on a $150,000 bond and then had to wear an ankle bracelet to allow the authorities to monitor his whereabouts. In fact, before that particular court date, paparazzi caught him withdrawing a $100,000 from his bank.
Apparently, a minimum sentence for receiving child pornography is five years in federal prison, with the maximum being 20 years. Similarly, possessing child pornography carries a similar sentence, with 20 years in federal prison as the maximum sentence. Therefore it sounds like Mark Salling's sentencing could be more severe than the four to seven years in prison ET reported would be the most likely sentence for the former actor.
One thing about the sentencing that is almost is certain is the fact Mark Salling probably will have to register as a sex offender. Plus, the court most likely will compel him to take psychological counseling and enroll in a treatment program for sex offenders.
From the sounds of it, the child pornography charges have eliminated Mark Salling's acting career. Around the time of the initial arrest, Adi Shankar, the director of Gods and Secrets, an independent film that initially included Mark Salling, said he wanted to wait to see what would happen. Shankar talked about not wanting to add to any "pitchfork culture" by firing Salling without more proof of criminal behavior.
However, ET later reported that Adi Shankar fired Salling from the project not long after the indictment. The director released a statement to explain he would personally pay for the reshoots, and Shankar also expressed hope that Salling might find peace.
Before Mark Salling's current legal trouble, he also went to court on sexual battery charges by his ex-girlfriend, who sued him over a 2011 incident involving forced intercourse. That particular case ended in a settlement, and Salling later confessed only to negligence regarding an injury his ex-girlfriend sustained during the event.
We'll have to stay tuned to see what happens in March, when the final sentencing comes down the line. It sounds like Mark Salling's sentencing could go a number of different ways because he pleaded guilty.
Your Daily Blend of Entertainment News