Someone Is Imitating Oprah On Social Media, And She's Not Happy About It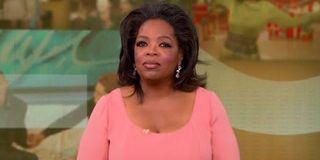 Oprah Winfrey is one of a kind, but now scammers apparently are imitating the media mogul to get personal information, such as email addresses and banking details, from trusting people who mistake fake social media accounts for Winfrey's real ones. When the talk-show legend became aware of the scams, she decided to reach out to her fans and followers via her authentic social media accounts, and personally remind people to be careful. In the video, Winfrey spoke (and sang) about what to watch for. She explained,
Oprah Winfrey took a serious tone for the bulk of the Instagram video. However, when she got to the "it's a fraud" part, she sang a little bit in that sing-songy way she frequently used when she would introduce guests on The Oprah Winfrey Show. (You know the one. "PEN-elope CRU-U-UZ!")
In addition to being a fantastic talk-show host and actress, Oprah Winfrey is known by many people for her generous spirit and philanthropic efforts, so she is an easy target for scammers tricking people with fake announcements about giveaways for people who sign up and submit information. In fact, OWN, or the Oprah Winfrey Network, has grown into an empire with much more than shows.
Today, OWN's real social media presence does offer features like sweepstakes, so from time to time, there are genuine chances to win stuff. But these do not include giving out financial details. As Oprah Winfrey pointed out, it is critical for everyone to ensure they truly are following her, not a scammer. (Pro tip: If they want your bank information or money, they are not OWN.) See her video here:
Before Oprah Winfrey herself recorded and uploaded the video, the team at OWN posted an Instagram message about the matter:
Some of the social media commenters on the video mentioned their surprise that people could be gullible enough to give their information. However, according to the BBC, there are many ways the scammers trick people. For example, some of them even get people to trust them by pretending to warn followers not to share their information in the comments section, but share it in private messages instead.
OWN has more than 600,000 followers on Instagram, but Oprah Winfrey herself has around 60 million followers on various social media platforms. Therefore, scammers might find it easy to dupe people who perhaps are unfamiliar with social media. It's a good thing Winfrey handled the situation as swiftly as she did.
Your Daily Blend of Entertainment News
Your Daily Blend of Entertainment News
Thank you for signing up to CinemaBlend. You will receive a verification email shortly.
There was a problem. Please refresh the page and try again.