Dwayne Johnson's Personal Life: What Fans Should Know About The Rock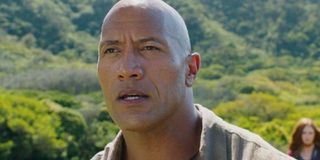 Back in 1999, Dwayne Johnson took a brief break from his wrestling career as "The Rock" to film an episode of That 70s Show. It was his first acting appearance outside of the WWE. Twenty years later, he's arguably the biggest star in Hollywood, and he somehow also seems to be one of La La Land's most well-liked personalities too. That's a rare combination in any business but especially one that allows its most famous personalities plenty of indulgences.
So, how did it happen? How did The Rock go from a rising star in World Wrestling Entertainment to one of the highest paid personalities in show business? Well, it's a long story and it's one not a ton of people know. Let's start with the basic facts and work our way into the specifics.
Who Is Dwayne Johnson And How Did He Get Famous?
Dwayne Johnson is a popular actor who was once a star in World Wrestling Entertainment. He first came to the general public's attention in the mid to late 1990s when he transformed his wrestling character from Rocky Maivia, a clean cut performer who wanted to be liked by audiences, to The Rock, a fast-talking villain who regularly insulted his opponents and the audience. Within a few years, he was widely considered the biggest star in the company.
In 2000, he was given a chance to host Saturday Night Live, and that well-received appearance led to regular movie role offers. A lot of his earliest movies weren't well received by critics, but he was regularly praised as being the best part of those bad movies. Fans also loved him, and after joining the Fast & Furious franchise in 2011, he quickly gained momentum. Now he's one of the most popular actors in the world, and his upcoming films Hobbs And Shaw, Jungle Cruise, Jumanji 3 and Black Adam are all expected to make huge money at the box office.
The Rock's Heritage And Childhood
The Rock is half-Black and half-Samoan. His father, Rocky Johnson, was a popular Canadian wrestler, who was one half of the first ever black tag team to win a title in the WWE. His mother Ata Johnson (who he later bought a house for) was the daughter of wrestler Peter Maivia, who was closely associated with the legendary Anoa'i Family, which produced such wrestling greats as Yokozuna, Rikishi, The Wild Samoans and Roman Reigns.
The Rock was born in California, but he bounced around a lot as a kid. He lived in New Zealand, Connecticut, Tennessee, Pennsylvania and most famously in Hawaii. The last location may be partly why he's frequently identified as Hawaiian. He lived there prior to his family getting evicted and moving back to the Mainland, and he very famously goes back there on a semi-regular basis, often recording touching tributes. The Rock definitely identifies as Hawaiian, even if he only technically lived there for a bit. Here is a tribute from his grandparents' graves, and here's one of him reflecting outside that old apartment building his family was evicted from.
Dwayne Johnson's Career As A Football Player
Prior to establishing himself in the wrestling business, Dwayne Johnson was recruited by and accepted a full scholarship from The University Of Miami to play college football. He played mostly defensive tackle during his time at The U and was on their National Championship winning team in 1991. After graduation, he briefly was on the roster of the Calgary Stampede. He was cut after two months and ultimately decided to give wrestling a go.
During his time playing football, however, he suited up alongside numerous future NFL players including Hall of Famer Warren Sapp, Pro Bowler Leon Searcy and 2-time Super Bowl winner Darryl Williams. Most people attributed The Rock never making the NFL to some of the injuries he suffered while at Miami, but The Rock himself has long said playing behind one of the greatest lineman in history, Warren Sapp, was what ultimately sealed his fate.
The Rock's Initial Struggles As A Wrestler
With wrestling in his blood from both his father and mother's side, it's not surprise Dwayne Johnson eventually found himself a home in the squared circle. What's probably surprising to fans who aren't super into wrestling, however, is how poorly it all went at the beginning. Longtime WWE wrestler and backstage bigwig Pat Patterson initially set him up with a few tryouts and after learning the ropes in some smaller promotions, he made his television debut in 1996 as Rocky Maivia, a combination of his father's and grandfather's names. It did not go well. Or maybe it went too well. Let me explain.
Because of his natural charisma and his bloodline, WWE Chairman Vince McMahon saw incredible promise in Dwayne Johnson almost immediately. So, he gave him what's known as a "push" in the wrestling industry. He was booked to win several matches early on over more established performers, and within just a few short months of appearing on television, he won the Intercontinental Championship, a belt typically given to the top performer right underneath the main event talent. Many fans felt disgruntled by his overnight success and started booing him, which is a big problem for a wrestler that's supposed to be a "babyface", or hero the fans root for. None of it was working out how either The Rock or Vince McMahon hoped; so, they decided to take the character in another direction.
The Rock As A Wrestling Anti-Hero
When Rocky Maivia reemerged several months later, it was as 'The Rock', a fast-talking, foul-mouthed member of The Nation Of Domination, a popular stable of wrestlers. His more aggressive attitude and willingness to engage with the crowd was a hit almost immediately, and the decision was made within a year or so to disband the Nation of Domination and let The Rock pursue a career on his own. He was quickly elevated to a championship contender, and by the end of 1998, he won his first Championship title. His catchphrases like "Lay The Smackdown" and "Do You Smell What The Rock Is Cooking?" soon began appearing on t-shirts across the country, and alongside other breakout performers like Stone Cold Steve Austin and The Undertaker, The Rock helped push the WWE and the entire wrestling industry into its biggest period of crossover success.
It all happened very quickly, and by the year 2000, The Rock was hosting Saturday Night Live, appearing on magazine covers and drawing the attention of Hollywood. Over the next four years, he tried to make both wrestling and acting work at the same time… to mixed results. Many hardcore fans became frustrated by The Rock's disappearances and some felt he was choosing acting over wrestling. By late 2002, he was getting an icy reception in some arenas, and the decision was made for him to embrace the fan frustration and become a heel, or villain in wrestling terms.
In the years since, The Rock has periodically returned to WWE programming. He famously appeared in the main event at Wrestlemania in 2012, a pay per view that is still the most purchased event in wrestling history. Given his love for wrestling, fans will always continue holding out hope he'll make some more appearances in the future.
The Rock's Acting Career
Apart from some TV show appearances, music video guest spots, etc, The Rock's first lengthier acting role came in The Mummy Returns in 2001. He then fronted the spinoff The Scorpion King the following year, and it was off to the races after that. Over the next decade or so, The Rock appeared in a lead or key supporting rule in numerous movies and TV shows including The Rundown, The Tooth Fairy, Be Cool, The Game Plan and Get Smart, but he didn't truly find that breakout role until playing Luke Hobbs in Fast Five.
Since Fast Five went on to gross more than six hundred million dollars at the worldwide box office, twelve of his movies have earned more than two hundred million dollars, with two of them topping the one billion dollar mark. That's not too shabby for an eight year window. As such, he's now widely regarded as one of the most bankable stars in Hollywood and one of the few actors who can get big budget movies not based off a popular franchise green lighted (Skyscraper, San Andreas).
In 2016, The Rock broadened his fanbase even further by starring in Moana. The Disney animated movie scored a 95% with critics on Rotten Tomatoes and was later nominated for two Academy Awards. It also produced hit songs, took in more than six hundred million dollars at the box office and introduced The Rock to an entirely new generation.
The Rock's Family, Ex-Wife And Children
Dwayne Johnson is currently dating Lauren Hashian. She's the daughter of Boston drummer Sib Hashian, and they met on the set of The Game Plan back in 2006. They have since had two children, a girl named Jasmine Johnson born in 2015 and a girl named Tia Johnson born in 2018. The Rock also has one more child named Simone Johnson that was born to his ex-wife Dany Garcia. Dany and Dwayne were married in 1997, and they were officially divorced around the time he met Lauren Hashian.
The Rock isn't super open about the personal life of his family, but he is good for the occasional story or Instagram post about his children. For example: in typical Dwayne The Rock Johnson fashion, he's been open in the past about how he hides a hundred Easter Eggs for his kids but doesn't fill any of them with candy. After all, you don't get his body by eating a bunch of sweets.
The Rock's Weight, Height And How He Stays So Fit
The Rock is officially listed as 6'5" tall and 260 pounds. Like all heights and weights of celebrities, athletes and really, anyone you've ever met in your entire life, you need to take what is being said with a grain of salt. The Rock's co-star Jason Statham is listed as 5'10", and as you can see from this picture, he's definitely quite a bit shorter. Frequent co-star Kevin Hart is also a lot shorter, coming in at 5'4", though that discrepancy is very often played for laughs (as in this picture) and the two are shot to look like opposites as much as possible. So, 6'5" is definitely not way off, and given the guns The Rock carries around, 260 pounds is definitely not that far off either.
Because The Rock is a fitness enthusiast, he has been very open about sharing his workout plans. He's also pretty open on his Instagram about tweeting out pictures and videos from his workouts. So, without getting into too many of the specific details, he stays really fit by lifting weights five days a week, doing a small amount of cardio five days a week and by doing special exercises for his abs and calves three days a week. It's all about consistency and repetition. You can read more about the workouts here.
The Rock's Net Worth, Business Success And Philanthropy
As The Rock has gotten more successful throughout his career, he has often turned his attention to helping others. He donated a million dollars to his old college Miami, and they re-named the new football locker room in his honor. He also contributed the money for a new gym inside a military base in Hawaii, and he reportedly offered extensive donations following the floods in Hawaii in 2018. He's also worked with the Make A Wish Foundation on numerous occasions.
Outside of acting, Dwayne Johnson has also established himself as a businessman. He has partnered extensively with Under Armour to release various product lines including t-shirts, gym bags and alarm clocks. He's also begun lending his hand as a producer to numerous projects under the banner Seven Bucks Productions.
All of these combined efforts have paid off quite handsomely for Johnson. There's a bit of disagreement on what exactly his net worth is, but Forbes claims he made $124M in 2017 and $65M in 2016. Altogether, he has reportedly earned more acting-related income than anyone else since the magazine began tracking earnings two decades ago. Altogether, it puts The Rock's net worth somewhere between $140M and $280M, depending on who you trust. Regardless, it's an incredible run for someone who left the Calgary Stampede with $7 to his name.
No, The Rock Does Not Have A Twin
As with any celebrity, The Rock is seemingly always at the center of some kind of wild rumor, and perhaps the most persistent of these rumors has been that he has a twin. He does not. The rumors, however, haven't stopped floating around, and they've been buoyed by three separate developments. The first is that some people didn't initially realize The Rock and Dwayne Johnson were the same person. So, when Johnson first started emerging on the acting scene, there were some who were shocked by how much he looked like the wrestler The Rock. That's why he was often billed as Dwayne 'The Rock' Johnson early on in his acting career.
The second reason is some memes went around the Internet a few years ago marveling at the similarities between The Rock and Denver Broncos outside linebacker Shane Ray. The similarities are definitely there, but considering The Rock is almost twenty-five years older and two inches taller, they're not thaaaaaattttttt similar.
The third reason and perhaps the most recent is that The Rock is extremely close to his stunt double Tanoai Reed, who also happens to be his cousin. The two made news last year when The Rock surprised his buddy with a new truck, and many on the Internet marveled at how the two basically looked like twins. You can check out the amazing video here.
In Summary
Dwayne Johnson has never been someone to generate a ton of headlines with his personal life, but as his acting career has grown and he's amassed more than a hundred million social media followers, he's started to get more comfortable with letting people have glimpses of his private life. CinemaBlend writers have been lucky enough to interview him on multiple occasions, and he has been nothing but friendly, charismatic and very invested. He's by all accounts and extremely nice guy, and there's no reason to think his career trajectory won't continue at the same rapid pace.
Over the next year or so, fans will be able to catch him in the upcoming fifth season of Ballers, Jumanji 3, Hobbs and Shaw and a lot of other exciting projects that haven't gotten a ton of publicity yet. If that's too long to wait, fans can also check him out on social media where he updates his Instagram and Twitter accounts on a regular basis.
Your Daily Blend of Entertainment News
Enthusiastic about Clue, case-of-the-week mysteries, a great wrestling promo and cookies at Disney World. Less enthusiastic about the pricing structure of cable, loud noises and Tuesdays.