What Fans Should Know About Anne Hathaway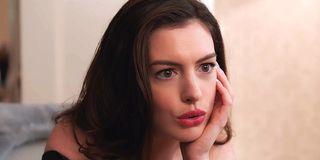 (Image credit: (Warner Bros))
Shut. Up. As of this year, Anne Hathaway has been an on-screen actress for 20 years. She has become an iconic talent over the years for her roles such as Mia Thermopolis in The Princess Diaries, the White Queen in Alice Through The Looking Glass, Christopher Nolan's Catwoman and Les Miserables' Fantine. The versatile leading lady even recently got a star on the Hollywood Walk of Fame to mark her big-name status.
But there's more than what meets the eye when it comes to Anne Hathaway. Sure, she has a long career resume filled with comedic and dramatic performances across the 21st century thus far. However, she's more than just and actress, so let's talk about the interesting, random and inspirational tidbits about Hathaway that have happened in-between her memorable big screen moments.
She's Named After William Shakespeare's Wife
Anne Hathaway actually shares the same exact name as another prominent women in history – playwright William Shakespeare's wife of 27 years. It's no coincidence, her parents were inspired by the name, although they allegedly did mull over naming her Catherine instead.
The actress expressed her relief Catherine Hathaway didn't make the cut in a Wired, noting it doesn't exactly roll off the tongue. Strangely enough, her husband of six years Adam Shulman has an uncanny resemblance to Shakespeare himself that has had fans conspiracy theorizing for years they're the immortalized couple. Just take a look below:
Anne Hathaway's Mom Is A Former Actress And Her Dad Is A Labor Attorney
Cute story alert! When Anne was six-years-old, she watched her mother Kate play Fantine in a stage version of Les Miserables and became inspired to pursue the art. This would be the role she would win her first Academy Award for in 2012. Isn't that amazing? Her mom quit acting soon after that to raise her daughter and two sons but in her heyday also starred in shows including Steel Magnolias, Evita and I Hate Hamlet.
She has since returned to the theater, most recently for a one-woman show in New Jersey, along with making a cameo in The Princess Diaries 2: Royal Engagement as a choir director. While Anne certainly takes after her mom, her father Gerard is a successful labor lawyer who represents corporations in New York.
She Suffered From Anxiety And Depression As A Teen
Just before Hathaway's career took off at the age of 19, she found herself in a dark place when she dealt with mental illness. She has since been open with her struggles (common among teenagers), previously explaining that she was able to overcome her mental challenges without turning to medication. The actress has joined other celebrities such as Demi Lovato and J.K. Rowling, who have also been vocal about their mental health.
She once told People, "I am sorry she was hurting for so long. It's all so negatively narcissistic to be so consumed with self" of her past and since developed her own methods to cope with stress, as well as fired back about negativity from her haters and has spoken out about body positivity amidst Hollywood's size standards.
Hathaway's First Role Was In A Television Series With Jesse Eisenberg
While she was officially inducted onto the big screen with her breakout role in 2001's The Princess Diaries, she actually broke into the industry in 1999 with a Fox series called Get Real. The dramedy show about a dysfunctional family only lasted a single 22-episode season before getting cancelled by the network, however.
It did help launch the careers of Anne Hathaway and Jesse Eisenberg, who would later go on to star in hits including Adventureland, Zombieland and The Social Network. The pair have since reunited in the Rio films as the lovebirds Blu and Jewel.
She Beat Out Liv Tyler For Her Princess Diaries Role
So, Anne Hathaway and Liv Tyler definitely share a resemblance and they also found their breakout (and most famous) roles in 2001. Both actresses were seriously being considered for the role of Mia in The Princess Diaries, but Hathaway's clumsiness ultimately earned her the part over Tyler.
An accidental fall off her chair during her audition impressed the filmmakers enough to hire her – this later came in handy when an unscripted fall off the bleachers in the movie became a memorable moment. There seem to be no hard feelings from Liv Tyler, as the actress ended up playing Lord of the Rings' Arwen in the Peter Jackson trilogy starting that very year.
She Turned Down Lead Roles In Phantom of the Opera, Knocked Up And Silver Linings Playbook
While the actress has certainly won a lot of great roles during her career, there are some that got away – or in her case, she decided to pass on. Anne Hathaway was considered for the 2004 movie version of Phantom of the Opera for the role of Christine but since the shooting schedule overlapped with the sequel to The Princess Diaries 2: Royal Engagement, she had to turn it down and Emmy Rossum took over the role.
Anne Hathaway also said no to playing opposite Seth Rogen in the early Judd Apatow hit Knocked Up, apparently because she objected to the director's plan to use real footage of a birth; instead, Katherine Heigl nabbed the role. She also could have played Jennifer Lawrence's Oscar-winning Silver Linings Playbook role, but "creative differences" pulled her away from it. It was a win-win situation, since both Lawrence and Hathaway won their Oscars during the same year.
Hathaway Was The Youngest Academy Awards Host Ever
Although the year she hosted the Oscars with James Franco gets a bad rep, the actress should get some credit! At 27, she was the youngest Academy Awards host ever! Not to mention she is among one of only three women who have hosted ever. Ellen DeGeneres and Whoopi Goldberg are the only other females to emcee Hollywood's biggest night.
Also, many of the criticisms toward the 2011 award show have been geared at James Franco's laid-back behavior during the Academy Awards, which didn't mesh well with Hathaway's chipper high energy. Eight years later, the actress has shown her positive outlook on the ordeal, sharing the experience was "the stuff of dreams" even if the critical failure does "sting a little bit."
She Lost 25 Pounds In Two Weeks For Les Miserables
Anne Hathaway's 2013 Oscar win was earned thanks to an incredible transformation on the actresses part. She dropped 25 pounds in order to portray the starved prostitute Fantine in Les Miserables who turns to the profession in order to provide for her daughter along with chopping her hair off in her heart-wrenching "I Dreamed a Dream" scene.
As one might imagine, dropping that kind of weight that quickly is not advised and Anne Hathaway had to learn this the hard way. Looking back at the transformation, she said she was not prepared with the health knowledge to properly take care of herself and as a result the effects were negative for her health in the long term. She became really sick and it took away from the joy of her Oscar win.
She Was A Longtime Vegan Until She Dined With Matt Damon
While health is clearly important to Anne Hathaway after her time on Les Miserables, why not bask in the simple pleasure of being a carnivore if you can? While dining with her Interstellar co-star Matt Damon and her husband Adam Shulman in Iceland a few years back, Damon asked the Michelin-star chef to serve them anything he'd like to cook them. She was a vegan, but salmon was on the menu that night.
First, she asked if the fish was local and they pointed to the view of the sea next to them. She ate up, not wanting to be the only vegan in a room full of people going with the flow and said her "brain felt like a computer rebooting." It's a funny little story that Anne Hathaway doesn't seem regretful about.
She Recently Quit Drinking For Her Son
As of October 2018, Anne Hathaway has also quit drinking alcohol for the benefit of her 3-year-old son, Jonathan. She told The Ellen Show that she plans to stay sober for 18 years (until her son is no longer living in her home). She said the hangovers were getting out of control – one lasting five days and at a time when she needed to be present for Jonathan to help him get ready for school in the morning and "she didn't love" that feeling.
The actress also has opened up about how her role in 2016 film Colossal was a wake up call because she could relate to her often drunk character. Here's what she once said to ABC:
Anne Hathaway has clearly been on a journey full of ups and downs throughout her career and come away with some interesting experiences and insights along the way. The 36-year-old actress has tons more projects on the way including a Robert Zemeckis directed adaptation of Roald Dahl's The Witches, a movie including the characters in Sesame Street and a crime-drama called The Lifeboat. Hopefully, her personal life will continue to be a journey, as well.
Your Daily Blend of Entertainment News
YA genre tribute. Horror May Queen. Word webslinger. All her writing should be read in Sarah Connor's Terminator 2 voice over.