Alaska Installs Pregnancy Test Vending Machines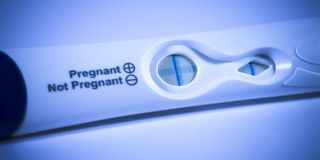 Going out and having a couple rounds with your friends at a bar is a great weekend activity. It's a chance to kick back, unwind and maybe sing a couple karaoke tunes completely off key and embarrass yourself, if you're into that sort of thing. Unfortunately, for some women, these boozy nights can have unexpected consequences if they later find out they're pregnant. So, one state is trying to do something about this in an extremely unique way.
According to ABC News , Alaska is installing pregnancy test machines in bathrooms in bars across the state. While this concept may seem pretty radical, silly, or not worth the money and effort,the University of Alaska hopes that it can help young women and their potential children stay healthy . The state has the highest rate of fetal alcohol syndrome in the entire country, and nearly half of all pregnancies in Alaska are unplanned. The project is even backed by state Senator Pete Kelly, an advocate for the program, and partially designed by nonprofit organization Healthy Brains For Children.
The pregnancy tests are offered completely free of charge and are aimed at letting women know if they're expecting before they start downing alcoholic beverages. While this sounds pretty costly, the price per test is only a dollar or two and when purchased in bulk, even cheaper. The University of Alaska hopes to not only help with the goal of preventing fetal alcohol syndrome, but also study if women react differently to posters about fetal alcohol syndrome when they're tacked to a machine dispensing pregnancy tests.
A similar initiative was launched in Minnesota in 2012 with similar goals and has experienced good success. In the Gopher State, they're available in not only bars but youth centers, convenience stores and restaurants. This means that women from all walks of life can get the information they need. Jody Allen Crowe, founder of Healthy Brains for Children, says she's heard positive stories about women who have used the tests. The motto on the dispensers, "Think Before You Drink," is not only catchy, but hopefully will work.
These efforts in the Frontier State should help women make smarter decisions when they're out having a drink and prevent infants from being born with preventable birth defects. The fact that the tests are free may also help lower income ladies who can't afford a test out of pocket. I personally hope more states adopt similar initiatives, and also offer free or easy access in more places to birth control methods. Anything that supports women's health is great in my book.