Dwayne Johnson Has The Sweetest Reaction To A Letter From Steven Spielberg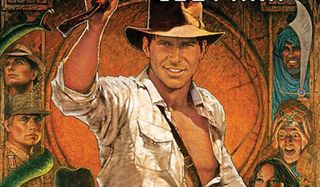 Dwayne "The Rock" Johnson is one busy man. Between the recent releases of Furious 7 and San Andreas to his new HBO series Ballers coming out next month as well as a number of starring roles in already scheduled future films, there's little time really revel in his late success. What with his intensive dieting and exercise to spending time with his family, and filming countless projects, the man probably has little time to even look up. But, in receiving a personal letter from his biggest childhood idol, Steven Spielberg, The Scorpion King actor was reminded of how far he's come, and has the absolute sweetest reaction. Take a look:
Spielberg apparently sent the letter to Johnson as a form of congratulations and further encouragement. But, Johnson's reaction to the letter, is the best part. As he reminisces on the first time he saw Indiana Jones as a young 8-year-old excitedly sitting front row for a sold out show, we can just imagine a little Rock wide-eyed and ecstatic. And though rumor has it Chris Pratt will be stepping into the new shoes of Dr. Henry Walton Jones, I have to admit, I'd love to see a Dwayne Johnson version of the character, bullwhip, satchel and all.
Johnson also goes on to admit his other fandoms as a child, playing with Star Wars figurines, and listening to Richard Pryor. But above his own personal enjoyment of said interests, it is the credit he gives to Spielberg which is the most touching of it all. Johnson calls Spielberg his "greatest inspiration in becoming an actor and wanting to make 'his kind' of movies." And though Spielberg has dipped his toes in many different genres, most of his greatest films fit in the science-fiction and adventure realm that Johnson is quite familiar with.
Earlier today, Johnson made an appearance at the San Andreas press conference where the subject of Steven Spielberg's letter arose. According to ComicBook, Johnson joked with the crowd admitting that he had indeed received a letter from "the director of Raiders of the Lost Ark," but wasn't a "name dropper". He followed that up with a "cough Steven Spielberg". When asked what the letter detailed, Johnson went speechless, but Beau Flynn, producer of San Andreas chimed in saying that the letter was written as "a fan" which just further humbled The Rock.
You can catch the rock in his latest action-thriller San Andreas when it hits theaters May 29.
Your Daily Blend of Entertainment News