What Happens When An Average Person Tries Dwayne The Rock Johnson's Diet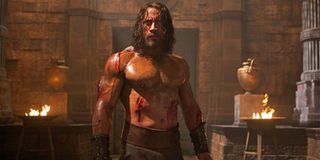 It's official, The Rock is superhuman. Just ask the guy who attempted Dwayne "The Rock" Johnson's diet for a day. One thing is for sure, he walked away with a lot more respect for the actor.
Dwayne "The Rock" Johnson recently shared a detailed description of his diet plan with Muscle & Fitness magazine and surprise, it's way more than the average can dare attempt to eat in one day. The former WWE champion apparently eats up to 10 lbs of food a day, that's 5,165 calories, if you're counting. Sean Evans, of Complex Magazine, decided to take on The Rock's diet challenge.
Evans attempted to follow the strict food intake of the following:
And the results were not pretty...
Evans started off his day at the gym with his first meal in tow: cod, whole eggs and oatmeal. The only problem, besides the obvious plainness of the meal, was the fact that Evans can't stand fish. But, the brave soul toughed it out and ate the fish like a champ before resuming his workout. Two hours later, the Complex News host had to move on to his second meal which consisted of more cod, but this time it was paired with sweet potatoes and vegetables.
The third meal was much easier for the challenger—his first bite of chicken all day, with rice and vegetables of course—but by the time he had to eat his fourth meal, which consisted of more fish, Evans was literally sick to his stomach. The poor guy ended up puking. But, that didn't stop him from continuing on with his mission. Instead of a lunch break, Evans opted for a workout at the gym to "free up some space," and eat meal five. He hilariously tossed meal six, the fish just became too much. He did make it meal seven, which was his last for the day.
In the end, though Evans didn't quite eat the 10 lbs of food, he did gain something else: much more respect for The Rock and his determination. In his own words:
The Rock returned the kudos in a tweet to the Sean Evans. We should all give the mere mortal major credit for attempting a superhuman diet in the first place though.
Your Daily Blend of Entertainment News
Thank you for signing up to CinemaBlend. You will receive a verification email shortly.
There was a problem. Please refresh the page and try again.