Emilia Clarke: 10 More Reasons To Absolutely Love Her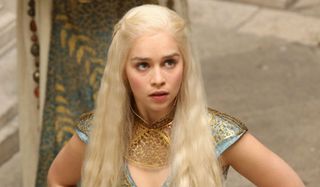 Emilia Clarke stole our hearts (while she ate one) when she first took the screen as Daenerys Targaryen, Mother of Dragons. She's a strong, powerful women on a mission, and won't let anyone get in her way. And while we grew to love Dany it became clear that the actress underneath the platinum blonde wig was an undoubtable talent, destined for even greater things, following a path to success as her character follows a path to the iron throne.
Clarke had only held very minor roles before her big break in the HBO hit series, one on an episode of British soap opera Doctors and another in a Syfy TV film, Triassic Attack, but it wouldn't be until after she impressed us as Khaleesi (and subsequent Emmy nomination) that Hollywood started to take notice, and within a couple years, she now has scored the upcoming lead as iconic action heroine Sarah Connor in Terminator: Genysis. We've already had reasons to rave about the 28-year-old star from Game of Thrones and are just as excited for her feature film debut. But here's 10 more reasons to absolutely love Emilia Clarke.
She Tried To Steal One Of Khaleesi's Dragon Eggs
So of course the Mother of Dragons, Emilia Clarke wanted to take a few of her prized possessions home. Well, it turns out, collector's items from set, especially those gorgeous dragon eggs come with quite the price tag attached. Clarke admitted to Harper's Bazaar that she indeed tried to "blag" one of them once, but to no avail. She does know a couple big time celebrities that did have the money to house them:
She Turned Down The Role Of Anastasia Steele In Fifty Shades of Grey
Despite being comfortable with nudity, Emilia Clarke wasn't about to sign on for a feature length film loaded with it. The young actress was highly considered for the role of Anastasia Steele in the recent blockbuster Fifty Shades of Grey. But while she stands by the fact that she has no regret in turning down the role, she did have high intentions going in. She continued to Marie Claire:
She Did The Funky Chicken Dance During Her Game Of Thrones Audition
After Emilia Clarke's audition for Game of Thrones, one of the showrunners asked her if there was anything else she could do. So what did Emilia Clarke do? She spoke of the embarrassing moment on The Tonight Show to Jimmy Fallon saying she ended up breaking out her biggest dance moves. Apparently, Co-creator David Benioff jokingly asked Clark to do a dance, so the actress went right into the Funky Chicken, with a few Robot moves added to the mix. She obviously made an impression, as the HBO execs unanimously agreed to move forward. Benioff and co-showrunner D.B. Weiss told the Wall Street Journal:
She Wants To Have A Threesome With Channing Tatum And Jenna Dewan
So apparently Emilia Clarke has a huge crush on Channing Tatum. Really who doesn't? But it's not just the actor she finds sexy, she thinks his wife is quite the hot commodity as well, and when Clarke ran into the duo at a Golden Globes afterparty, she just couldn't contain herself, telling Harper's Bazaar:
She Really Wanted To Be A Wildling Extra
During her time filming Game of Thrones, Emilia Clarke was given the opportunity to befriend a whole slew of talented actors. She told Vulture that her, Richard Madden (Robb Stark), Alfie Allen (Theon Greyjoy) and Kit Harrington (Jon Snow) ruled the 'young 'uns' since the are all the same age and started at the same time. But she really loves her friend Rose Leslie (Ygritte) and desperately wanted to be a wilding extra along her side.
She Had A Tough Time With The Grenade Launcher On Genisys
Emilia Clarke had to get into intense physical shape for her role as Sarah Connor. Of course, the character is one of the most iconic women in action, but Clarke, who has already held a particularly physical role in Game of Thrones claimed her film role in Terminator: Genisys to be much more intense. There was one weapon in particular that caused the actress problems, the grenade launcher. She told People:
But, Clarke made a point to get into shape, and specifically impress her male dominated cast with her weapons training. She told the publication that she wanted to show the boys how it was done.
She Had A Nude Scene In Her Broadway Debut, And It Caused A Camera Frenzy
After her breakout role in Game of Thrones, Emilia Clarke started to get noticed. So much so that the young actress scored the role of Holly Golightly in Breakfast at Tiffany's on Broadway. But of course, along with her newfound fame came a bit more attention, and in one particular scene during the play, Clarke strips down. And while plenty are used to this on Game of Thrones, the internet bizarrely erupted with excitement. According to the NY Post, photographers went crazy as Clarke disrobed and entered a bath tub, there was even a fan who tweeted out, "I would drink Emilia Clarke's bath water." But Clarke stays humbled, claiming it wasn't 'that' much of a frenzy.
Her First Audition Ever She Sang A Song About A Donkey
From a very young age, Emilia Clarke was exposed to the world of acting. Her father was a theatrical sound designer, so she ended up tagging along to many of his jobs, and as she grew older started to feel the magic of the theater. She reminisced with Wall Street Journal saying the older she got the more intrigued she became at the sight of an empty theater and would run around the barren stages just picturing how'd they be transformed. But it wasn't until was 10 years old she announced her intentions to her father, who decided to bring young Clarke to an open audition for a show on London's West End. She told WSJ that they didn't know she was supposed to act and sing, so she improvised:
She Told Her Parents Not To Watch The First 6 Episodes of Game Of Thrones
Most Game of Thrones fans can remember how brutal Emilia Clarke's Daenerys had it in the first few episodes of Season 1. And within those episodes, there was also a few instances of nudity. So in her breakout role, Clarke had to tell her parents to maybe not watch the first six episodes. Of course, her parents wanted to see their daughter's big break, but Clarke claims her dad was totally not prepared. She told Empire Magazine that her and her dad "sort of didn't talk for a minute during Season 1." But of course, her parents are incredibly proud of her, and Clarke says that her mother loves to introduce herself as the "Grandmother of Dragons".
She Really Wants To Be An Extra On Girls
Emilia Clarke may only be beginning her road in TV and film, but the actress already knows which shows she like to appear on. While she did make a cameo a couple years ago on Futurama the 28-year-old actress has a couple specific shows she really wants to be on. Fortunately, she still has a chance on Girls, unfortunately, her opportunity ended on another hit series. She told GQ:
Your Daily Blend of Entertainment News
Your Daily Blend of Entertainment News
Thank you for signing up to CinemaBlend. You will receive a verification email shortly.
There was a problem. Please refresh the page and try again.