Even More Vanessa Hudgens Nude Photos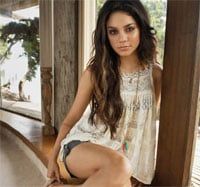 High School Musical star Vanessa Hudgens posed for saucy photographs for a former boyfriend Drake Bell before she was famous, according to reports.
Candid mirror-image shots of the 18-year-old began circulating on the internet last week (ends09Sep07) were allegedly intended for her boyfriend and High School Musical co-star Zac Efron's eyes only - but an unknown third party stole the pictures and placed one on the internet.
But according to People.com, it isn't the first time Hudgens posed naked for a partner, with the magazine claiming Hudgens emailed racy shots to former boyfriend, Nickelodeon star Bell, several years ago. However, a representative for Bell denies the controversial pictures were ever received by the actor. Jill Fritzo says, "Drake says he never received those photos."
Hudgens said in a statement issued earlier this week (ends09Sep07), "I want to apologise to my fans, whose support and trust means the world to me. "I am embarrassed over this situation and regret having ever taken these photos. I am thankful for the support of my family and friends."
Copyright 2007 WENN
Your Daily Blend of Entertainment News