Ginnifer Goodwin Is Confident Her Pixie Cut Rocks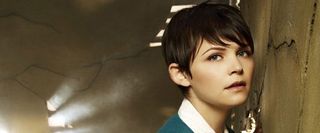 Ginnifer Goodwin has been rocking out with the pixie cut for a long time now, rocking the 'do prior to starring on the hit ABC show Once Upon A Time. The actress gets to keep the short haircut during the scenes set in the modern day United States on the show, and according to the starlet, the look is a keeper, due to its ease-of-use and generally refreshing look.
Goodwin recently spoke out about her curly hair, stating it has always been a hassle to manage and maintain, a premise many curly-haired women can relate to. Unlike many women dealing with curls, Goodwin was willing to take a chance with a pixie haircut and sport a look that would not work with some face shapes. The 34-year-old actress recently spoke to People about her confidence in her look.
The actress continued to gush about her 'do, stating the misconceptions about short hair are really not as credible as one would think. The woman has rocked out with really long curls as well as the pixie cut, and she says she would take the short hair over the long when trying on clothing any day of the week.
Indeed, the Once Upon A Time star had on a white dress with lacy sleeves by Monique Lhuillier that may have looked a little frilly without the more stark looked ensure by Goodwin's haircut. Pop Blend hopes the actress keeps up the choice for a few TV seasons to come. We can't imagine Mary Margaret without it!