How Eazy-E Really Contracted Aids, According To Former Ruthless Records Rapper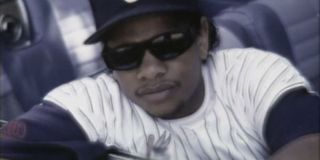 Since the death of Eazy-E back in 1995, there have been multiple conspiracies surrounding what really caused it. The rapper was diagnosed with AIDS and through complications of the virus, reportedly died. But in the music industry, many believe there's far more to the story than natural causes. Particularly, Latin rapper Frost, who was signed to Eazy-E's Ruthless Records back in 1995 has quite the allegations. Frost claims that Eazy-E was actually purposefully infected with HIV needles while attending acupuncture.
With the recent success of the N.W.A. biopic, Straight Outta Compton, the former lives of those involved have been resurfaced. The biopic explores Eazy-E's diagnosis, and ultimate death, but not in too much detail. There's an underlying tension between him and Suge Knight, but not in the detail that the music industry legends claim. Eazy-E's son, Yung Eazy recently took the notions of Suge Knight's threatening of Eazy-E as far as Knight actually having injected his late father with an AIDS-infected needle. Frost on the other hand claimed in a new interview with Siccness.net that he knows the real way it all went down.
Apparently Eazy-E had hurt himself riding 4-wheelers, so he began going to acupuncture. Frost later goes on to claim that it was someone that the rap fans know ordered the injection of those needles, a name he wouldn't even say aloud, but everyone knew who it was. He believes that that man (presumably Suge Knight) was behind the AIDS-tainted needles at Eazy-E's acupuncture therapy.
Whether or not the stories hold any truth is hard to tell. There was a serious competition in the industry during that time, and some major tension on both sides. But most people that were close with Eazy-E, still find it very strange how quickly he got sick. Frost went on to note during his interview:
Even 20 years after his death, rumors are still floating on the cause. This sure is a case we'd like to see closed, though we may never know the real truth, or if there even is one.
Your Daily Blend of Entertainment News