Miley Cyrus And Liam Hemsworth Have Called Off Their Engagement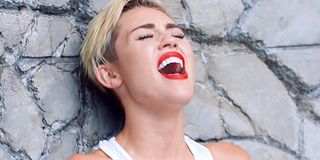 In this year's least surprising pop culture story, Miley Cyrus and Liam Hemsworth have called off their engagement. Rumors have been swirling around news forums for months that the two had broken up and called off any potential for a wedding in the future, but it took until Monday for the whispers about the 20-year-old singer and the 23-year-old actor to be cemented as fact.
Cyrus and Hemsworth first hit it off on the set of The Last Song, before she decided to test her boundaries, got into drugs, and chopped all of her hair off. Hemsworth proposed in May of 2012, giving Cyrus a gorgeous 3.5 carat Neil Lane ring when she was only 19. Reportedly, her family was excited about the engagement, but then trouble hit paradise.
Last spring, Cyrus was seen without her ring. Rumors that the two had broken up quickly surfaced. Although Cyrus was quick to quash them, the two did note that they had a long engagement planned and that a wedding would not be coming soon. During the late summer, the two seemed to have reconciled, and she recently even attended the Paranoia movie premiere with him toward the beginning of August. Since then, we've dealt with cheating rumors, a wacky VMAs performance and plenty of other shenanigans.
E! reported early today that Cyrus' rep confirmed the call-off. Later this afternoon People also spoke to Hemsworth's rep, who agreed with the first rep's assessment. Since we're dealing with representatives instead of social media fights, I think it's safe to say that this time the break-up is pretty official.
Things have been notoriously rocky between the couple, and perhaps the greatest indication of the end of things occurred yesterday, when Cyrus un-followed Hemsworth on Twitter. That sort of overt middle finger behavior spells a pretty clear message, even if the two weren't open about calling their future nuptials off at that time.
A person's early twenties are a time for change and experimentation. Cyrus has been more overt with those changes, startling many with her changed attitude in her latest music videos and her performance with Robin Thicke at the VMAs. Hemsworth may not have been so overt with any public persona changes, but as he becomes a bigger star, it's likely his outlook is changing somewhat, as well. Sometimes when two people are both growing in ambition, things don't work out over the long run, but at least Hemsworth and Cyrus have given up before they decided to sign a piece of paper, rather than after.
Amazing Race & Top Chef superfan with a pinch of Disney fairy dust thrown in. If you've created a rom-com I've probably watched it.
Your Daily Blend of Entertainment News
Thank you for signing up to CinemaBlend. You will receive a verification email shortly.
There was a problem. Please refresh the page and try again.