The Real Story Behind Last Year's Epic Oscar Selfie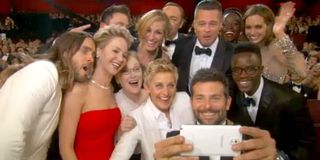 Whether or not you tuned into the Oscars ceremony last year, there was absolutely no way you could miss the tweet that broke the internet (sorry Kim I think this has you beat). It circulated for days afterwards with the tall tale that celebrities who take ridiculous selfies are just like us! With everyone from Jennifer Lawrence, Julia Roberts, Meryl Streep, Lupita Nyong'o, and the goofball in the back, Kevin Spacey, it was a photo so happy that even Maleficent smiled. But, like most moments at the Academy Awards, it was planned, except that in this selfie's case, the original plan (to our delight) failed, and in that failure came something so much better.
According to Entertainment Weekly, producers of the show, Neil Meron and Craig Zadan originally had a different plan in mind when going for a Twitter photo of celebrities in the crowd. Instead of the selfie, the joke was that Ellen would get Meryl Streep to take the photo. What?! Can you imagine? That photo without Meryl is nothing but a bunch of pretty decent actors getting together to 'say cheese'. But add the legendary Meryl Streep to the mix, and it becomes worthy of its 3,361,860 retweets. Meron explained:
But of course, Bradley Cooper and his 'long arms' went off script, grabbed the phone, and snapped the masterpiece that no one will ever forget from the 2014 Academy Awards.
No one expected it to happen, and that's probably what made it such a memorable moment, because when you think about it, there are very few of Ellen DeGeneres' jokes that are specifically memorable from last year's award ceremony, but everyone, even those who didn't watch the Oscars, know the 'Oscar selfie' that will go down in pop culture history.
The 2015 Academy Awards are happening in just a few days, and this year's host Neil Patrick Harris knows what big shoes he has to fill after last year's success. As he sat down with DeGeneres a few days ago on NBC's The Ellen DeGeneres Show he admitted that he was absolutely terrified, thanks to that one selfie:
We'll have to see what Harris has up his sleeve for this year's ceremony on Sunday February 22 at 8:30 ET, but we if the 'Oscar selfie' taught him anything, it's that sometimes it pays to go off script.
Your Daily Blend of Entertainment News