See Britney Spears Adorably Recreate Oops! I Did It Again Album Cover With Sons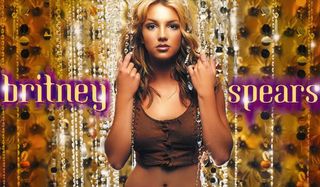 It feels like yesterday that we were in the midst of the Britney Spears breakdown of 2007, when the once international pop star went crazy and shaved off all of her hair. But, since that crazy phase, Britney has been trying to make some sort of a comeback. And now, she is even adorably reminiscing her past, particularly a certain sexy album cover. This time around, it's a little less 90s sexy, and a bit more soccer mom cutesy as Spears poses with her two sons in Disneyland as a recreation of her Oops...! I Did It Again album cover. Take a look:
With the caption, "The boys and I doing our best #Oops album cover pose" Spears and her sons peak through hanging beads with big smiles. And though they all look equally adorable, Spears' sons have the pose down pact, even with the correct hand positioning, while the O.G. holder of the pose seems to have forgotten. Here's the original for comparison:
The iconic Oops!...I Did It Again album featured some of Britney Spears' biggest hits. Obviously, "Oops!... I Did It Again" was probably the most popular but there were also huge singles such as "Lucky" and "Stronger". It is still one of the highest selling albums of all time with over 24 million copies sold to date. And you know if "Oops!..." played over the radio right now, you'd at the very least be belting the chorus. Or for any of you fellow 90s girls out there, you probably remember the entire dance from the music video too (or is that embarrassingly just me?).
Unfortunately Britney has had some trouble getting back in the limelight. Her recent collaboration with Iggy Azalea for the '80s infused "Pretty Girls" was a major flop. But now, hit producer DJ Mustard (don't worry I giggled too) claimed that he is already working with Spears in the studio (via ThisIsMax). DJ Mustard is the producer behind stars such as Tyga, Young Jeezy and 2 Chainz. So, if all goes according to Mustard, we may be in for another Britney Spears hit album real soon. Stay tuned.
Your Daily Blend of Entertainment News
Thank you for signing up to CinemaBlend. You will receive a verification email shortly.
There was a problem. Please refresh the page and try again.