Smelliest Protest Ever: Man Leaves Several Tons of Poop Outside France's National Assembly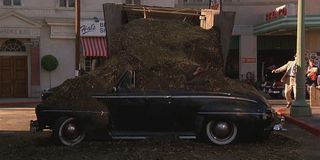 I've never worked for the government, but I have to imagine thick skin is a requirement, particularly when an anonymous truck driver decides to drop off a huge pile of manure in front of your office building.
Today, a man pulled up outside France's National Assembly in Paris and released several tons of cow poop onto the steps below. Personally, if I was going to do a dung-related protest, I would have gone with the old "light a bag of dog poop on fire" routine, but I clearly lack this man's creativity and initiative.
This particular act was in protest to … well, no one is quite sure, but it seems to have to do with French President Francois Hollande. On the side of the truck read the slogan, "Hollande and the whole political class out!" It's perhaps important to note that the president's recent economic policies and rising unemployment have drawn the ire of French citizens, earning him a dismal 26 percent approval rating.
Soon after this smelly act of vengeance, police draped a white banner over the truck and arrested the yet-to-be-named individual. There are no further story developments at this time, which means we will just sit back and wait for news outlets' entertaining pun-y poop headlines to start rolling in. Here, I will even make a few suggestions:
Parliament Poops! France's National Assembly's Front Steps Get Down in the Dumps
P-U: French Parliament Gets Stinking Load on Its Doorstep
"OH, CRAP!" [Insert photo of President Hollande]
Civic Doodie Outside National Assembly
While I am sure those at National Assembly are now regretting their decision to come into work today, just remember, it could have been worse:
Your Daily Blend of Entertainment News
Thank you for signing up to CinemaBlend. You will receive a verification email shortly.
There was a problem. Please refresh the page and try again.