What To Know About You On Netflix If You're New To The Drama Series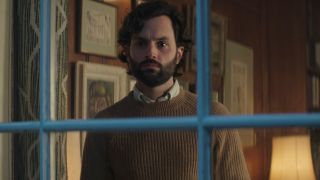 (Image credit: Netflix)
Hello, you.
You has become one of my favorite shows on Netflix. I have re-watched it about three times, and I will recommend it to anyone who wants a suspenseful show to watch. With You Season 4 releasing on Netflix, now is the perfect time for my obsession with this show to come back and for me to remember several things.
For those who have never experienced it before and might want to give the show a chance, here are six things you should know before watching You on Netflix – before he comes to get you, too.
You Is Based On A Series Of Books And Was Originally A Lifetime TV Series
Much like many other dramas, such as Riverdale or The Witcher, You is actually based on a pre-existing property, the story being taken from the books by Caroline Kepnes. The show was actually originally a Lifetime TV series, but when it was released on Netflix and became so popular, the streamer ended up buying the right to make new seasons.
Three Seasons Released, Season 4 Part One Just Came Out On Netflix
Since 2018, You has released three full seasons, each with ten episodes that are all around an hour long each, so there's plenty to watch and enjoy. Season 4 just released its first half, with five episodes currently on the streaming giant, and the final five are set to come out on March 9th, 2023 – a month later.
The Story Follows Joe Goldberg And His…Romantic Obsessions
If you're wondering exactly what You is all about, it mainly follows Joe Goldberg. At first, he seems like he's going to be just your average guy – works at a bookstore, is nice-looking, and seems to be a decent, charming man. But turns out, Joe is what I like to call a serial-lover – meaning he falls in love very quickly, and he will stop at nothing to make sure the person he cares about is his – and that anyone who is in the way is taken out.
Yeah, You is most certainly not like the best romantic comedies, romance dramas or any of that. But in a way, I think that makes it better than anything else.
The Cast Tends To Change A Bit (Or A Lot) From Season To Season
So the main star of You is Penn Badgely. You may know him from the Gossip Girl cast (the original hit CW show, not the reboot on HBO Max). No matter what, Badgely is the star, and has appeared in all four seasons. However, the cast does tend to change.
Without spoiling anything story-wise, I will say that Joe tends to move locations pretty often, so with that comes new characters and new cast members. But, they are not short of brilliant acting on each season, with stars such as Jenna Ortega, Shay Mitchell, Victoria Pedretti, and more appearing in major roles across the show's three seasons. Season 4 is bringing in a whole slew of new cast members as well, so this trend is only going to continue.
You Is Suspenseful, Dramatic, And Occasionally Violent
While you would expect You to be full of love and fun, it can be quite violent at times. I would say that the series is much more closely aligned with suspense and drama, and that those elements are used in its violent moments. It truly stands out as one of the best shows on Netflix right now.
You Is Rated TV-MA
You might want to keep the kids away for this show. You is rated TV-MA, which is the same rating for violent television shows such as House of the Dragon or The Witcher, so better to be safe than sorry and leave it to the adults.
With three and a half seasons to stream, You is most certainly worth your time to check out. Now is the perfect time to binge.
Stream You on Netflix. (opens in new tab)
Your Daily Blend of Entertainment News
Big nerd and lover of Game of Thrones/A Song of Ice and Fire. Will forever hate season eight. Superhero and horror geek. And please don't debate me on The Last of Us 2, it was amazing!