Alison Brie On Whether She And Husband Dave Franco Get Uncomfortable Watching Each Other Perform Sex Scenes
I suppose it's all part of the job description.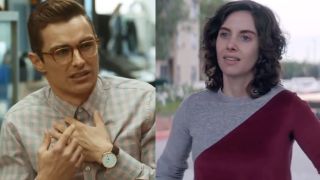 (Image credit: Netflix)
Marriages can be tricky. Some couples can work together, while others need that time apart to make their living situation work. Things can get even more challenging if the pair work in the same industry. Now, imagine part of your job involving seeing your partner in a spicy sex scene, like one you might find in one of the sexually explicit movies on Netflix, now add the extra layer of having to direct said scene. It seems like it would be pretty uncomfortable, but for married couple Alison Brie and Dave Franco, that doesn't seem to be the case. According to Brie, it's all part of the job description.
Alison Brie now stars in Franco's recent movie, Somebody I Used to Know, the second big-screen collaboration for the couple with the actor in the director's chair after the horror movie The Rental–an experience the actress says was wonderful. While chatting with Jezebel the Community alum was asked whether or not it's uncomfortable to see each other in intimate scenes, especially in the movies they work together on. Brie said they don't get uncomfortable after working together for so long because they are both actors who understand it's part of the job description. She said:
Brie and Franco have had relatively active acting schedules, so one can imagine that romantic scenes are bound to crop up, especially when both of their stars are on the rise and are in more demand. It's good to hear the two don't get jealous, and they recognize sex scenes for what they are: work.
The Horse Girl actress said that though it probably sounds crazy, witnessing her partner in love scenes with other actors isn't all that weird for her. Brie also added that when it comes to Somebody I Used to Know, which was written by the pair and directed by Franco, they see the film as their "baby," and the only thing on their minds is making the best film possible. She continued, talking about the film that features her having intimate scenes with another actor:
While seeing your partner in a romantic situation (job or not) might be hard for audience members to imagine, Alison Brie has never been shy about her sex appeal and love for her body, which has extended to many of her roles. She was happy to showcase herself trying on lingerie in one of the best rom-coms of all time, Sleeping With Other People. Plus, in her and Franco's rom-com, the couple decided to write Brie's "love of streaking" into the screenplay. And you know what? Good for her.
You can decide for yourself whether or not Alison Brie's sex scene with Jay Ellis comes across as awkward or not by catching Somebody I Used to Know, streaming now for anyone with an Amazon Prime subscription.
Your Daily Blend of Entertainment News
Ryan graduated from Missouri State University with a BA in English/Creative Writing.