Alison Brie Admits She 'Loves To Streak' So They Wrote It Into Her New Rom-Com
Alison Brie's love of streaking.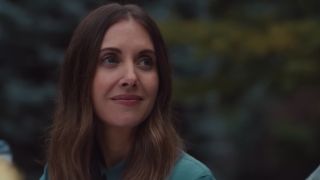 (Image credit: Amazon Studios)
Alison Brie is an actor who is never afraid to show off her sex appeal and love for her body. Remember, this is the same woman who we saw trying on lingerie in one of the best rom-coms of all time, Sleeping With Other People. In her next rom-com, Somebody I Used To Know, Brie decided to show off her "love of streaking" and take it to a whole other level by writing it into the movie.
We all have moments when we want to just shed our clothes and bare all. Whether you want people to look or not, of course, is up to you. Alison Brie definitely has the courage to do so, as the poster for Somebody I Used To Know shows her running stark naked. Because she loves to streak so much, she told Entertainment Tonight that she couldn't help but write a scene in her husband Dave Franco's new rom-com where her character runs nude on a golf course. Said Brie,
While we may picture in our minds running through a field stark naked with no care in the world, Alison Brie is basically living out our fantasies with gusto. According to People, while the Community actress acknowledges her character in Somebody I Used to Know is not a reflection of her, she took it upon herself to draw from aspects of her personality and sense of humor for the role. The plot of the new film may seem familiar – with a woman finding a spark between her and her ex only to find out he's engaged – but expect to see free-spirited scenes of pot-smoking, adult humor, and running freely naked outside.
One person who may not be completely comfortable with Alison Brie's right to bare all would be her husband. The Mad Men actress continued telling People that she's spent years talking Dave Franco into being comfortable with her nudity in public. This being her husband, his averseness to it makes sense. But, there's no better way of telling your wife his newfound comfortableness about it than by having her appear nude on-screen in one of his movies. The 21 Jump Street actor told ET that Brie was running up and down the halls naked in their home moments ago with his wife giving a logical reason for that:
Maybe we should all try that before we go to sleep. One thing you may not know about the GLOW star was that she was a nudist while studying theater at the California Institute of the Arts. Back in the early 2000s, she would occasionally jog around campus in only her tennis shoes or even hang from a tree nude to get a laugh out of her roommate! Considering she believes the last time she indulged in nudity was during her time on the binge-worthy Netflix series GLOW with its last episode being three years ago, it's been a long time coming for her to be her most natural self, to say the least.
The fun is not over yet for Alison Brie, as she and Dave Franco are in the middle of another writing project together. Who knows if the nudist actress will have her way again with yet another streaking scene in their next film? Get ready to watch Somebody I Used to Know on your Amazon Prime subscription on February 10.
Your Daily Blend of Entertainment News
Just your average South Floridian cinephile who believes the pen is mightier than the sword.