Eric André Reveals What A Financial Disaster Bad Trip Was, Despite Being Netflix's Number One Movie
Eric André's Bad Trip was #1 on Netflix, but suffered bad luck.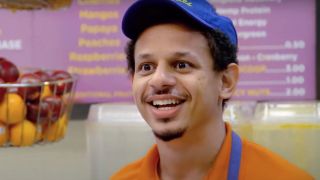 (Image credit: Netflix)
The COVID-19 pandemic had a major impact on the film industry, and Bad Trip was among the many movies affected by it. Not only were there major movie release delays and early digital releases due to the pandemic, but a lot of movies that were supposed to be released in theaters ended up going streaming instead. That included Eric André's movie Bad Trip, which ended up being a number one movie for Netflix, but became a financial disaster.
If you recall watching the red band trailer of Bad Trip, this hidden-camera film was such a wild ride that left passersby not knowing they were in the movie, with their jaws on the floor during each prank. The hilarious plot follows two best friends taking a road trip so one of them can declare their love for their crush, all while escaping a mad criminal whose car they stole. But as the film's star, co-producer and co-screenwriter Eric André revealed on The Howard Stern Show, Bad Trip actually faced some bad luck getting released during the COVID-19 pandemic.
That's an insane story right there! It appears that Bad Trip had to go through many hurdles in order for audiences to see it. Luckily, this comedy film was able to make its way to the 2021 Netflix movie release schedule, and pulling off those pranks for the movie was no easy feat. Eric André actually had a knife pulled on him during filming by the owner of a barbershop after he and co-star Lil Rel Howery pretended their penises were stuck together in a Chinese finger trap. Rel Howery nearly quit the movie because of that death-defying experience. Luckily, no violence was shed and the two actors were able to continue filming unharmed. After surviving a terrifying incident like that, I'd like to hope after all of that for his movie to get an eventual release too.
Because Bad Trip did not get the theatrical release it was originally intended for, this meant no box office money. André continued to say to Howard Stern that despite Bad Trip being the top Netflix movie at the time, the film wasn't profitable.
That doesn't make any sense, right? You would think being one of the best movies on Netflix would have helped the movie financially. What made matters even worse was the terrible news The Lion King actor received the day it was supposed to premiere.
It's a terrible tragedy to receive distressing news like that about your dad, and during one of the most uncertain times in the world. But Eric André's challenging journey toward the release of Bad Trip proves that along with the bad, there's the good. Bad Trip was considered one of the best comedy films of 2021 and even sat well with Seth Rogen, who gave a praiseworthy reaction to the film's wild comedy antics and the work André put into it.
Bad Trip may not have been a financial success, but it resonated very well with Netflix, critics and streaming subscribers who saw it. If you're looking for an easy laugh to brighten your day, watch Bad Trip on your Netflix subscription.
Your Daily Blend of Entertainment News
Just your average South Floridian cinephile who believes the pen is mightier than the sword.