I Watched We Have A Ghost And It Warmed My Spirit
You'll wish you had a ghost... or, at least, one like Ernest.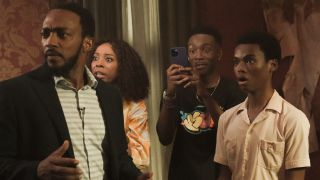 (Image credit: Netflix)
SPOILER WARNING: The following article gives away, pretty much, the entire story of We Have a Ghost. So, if you get easily spooked by spoilers, we recommend proceeding with caution before you read on.
There are many horror movies that are not very scary, but still count as a bright spot for the genre even in the eyes of a hardcore fan like me. Yet, I cannot deny that I was a little apprehensive when I first heard about the new Netflix original movie, We Have a Ghost, in which a teenager and his family's lives are turned upside down when they discover a friendly spirit haunting their new house.
To be perfectly honest, the biggest reason I was at all interested in this new horror movie (a term I use very lightly here) was its star-studded cast led by David Harbour and the MCU's current Captain America, Anthony Mackie. However, once I checked it out for myself, it became clear to me why it became a hit on Netflix so soon and, by the end, I was convinced that we have a new supernatural comedy classic on our hands. See what I mean by checking out this breakdown of what went through my head while I watched We Have a Ghost.
Normally, I Would Balk At Using An Emoji In A Title Card…
But seeing the "ghost" in We Have a Ghost replaced with the emoji of a sheet-wearing spirit sticking its tongue out actually gave me a nice little chuckle right at the top. It also turned out to be a great reflection of the film's predominantly comical tone and commentary on web culture (more on that later).
I Like Kevin's Taste In Music
I never would have anticipated hearing Alice Cooper in a modern teen horror-comedy, but our young, living protagonist, Kevin (Jai Winston), is listening to 1973's "No More Mr. Nice Guy" when we first meet him, which was a pleasant surprise. Actually, I really dug the whole soundtrack, which features an eclectic variety of classic FM staples — such as Creedence Clearwater Revival's "Who'll Stop the Rain?" which Kevin plays on his acoustic guitar to lure Ernest (David Harbour) out of hiding — and a few newer songs — namely "Colors," by Black Pumas, which I made sure to Shazam so I could play it for myself later.
I Almost Wish Ernest's First Appearance Was Somewhat Scary
The first time we meet Ernest is not much different from how he first appears in We Have a Ghost's official trailer, which left me slightly disappointed, because I was actually hoping I might, at least, find his initial introduction creepy. However, I would come to realize that a scary introduction would have been diminishing to his character's true purpose. Plus, he makes up for it grandly when he uses tactics like an Exorcist-style crab-walk, a demonic hand protruding from his mouth, and a melting face to spook fake medium Judy Romano (Jennifer Coolidge).
The References To Other Ghost Movies Are On Point
To teach Ernest to be scary when he meets Judy, Kevin shows his friend a clip from one of Blumhouse's best horror hits — 2011's Insidious, which parapsychologist Leslie Monroe (Tig Notaro) nearly quotes directly earlier on. That is just one of the great horror movies that this film pays homage to, such as The Changeling (one of the best horror movies on Peacock) when Kevin sees a red ball seemingly move on its own, or how the temperature drops when Ernest is present, like in (arguably) M. Night Shyamalan's best movie, The Sixth Sense. Of course, this movie would have been incomplete without a reference to one of the most romantic horror movies, 1990's Ghost, which is seen on TV in another scene.
The Internet Culture Parody Is Spot On
When Ernest becomes a viral sensation, it inspires thirst posts in his honor, a dangerous internet challenge (like that time Bird Box fans went out in public blindfolded) daring people to run through walls like he can, and TikTokers arguing over what rights a ghost may or may not be entitled to. I cannot imagine things going any differently if this sort of thing happened in real life.
Seeing Tig Notaro In An Antagonistic Role Is Fascinating
I am so used to Tig Notaro's laid back attitude and deadpan sense of humor in most of her movies, TV shows, and stand-up specials that seeing her contradict that reputation with a comparatively uptight performance as Leslie Monroe was quite amusing. That being said, I probably should have been able to predict her character would become more sympathetic by the end.
David Harbour Is The Real MVP Here
I think everyone in the We Have a Ghost cast — also including expert screamer Erica Ash and scene-stealer Isabella Russo — does a great job, but I was especially impressed with David Harbour. The Stranger Things cast member has shown great range over the years, but Ernest is one of his most challenging roles yet, because, according the film's rules, ghosts cannot speak. His ability to bring so much "life" into his character without saying a word was one of the movie's greatest accomplishments.
I Have Been On The Verge Of Tears Too Many Times During This Third Act
I actually found myself so charmed by Ernest that the truth behind his death — he was murdered by friends who wanted his daughter, June, for themselves — and seeing him kidnapped by Dr. Monroe's CIA goons affected me on an emotional level I was not at all prepared for. The moment that really had me nearly weeping was when Ernest gets to reunite with a grown-up June (Jo-Ann Robinson) shortly before he finally crosses over. I am seriously welling up just from thinking about it now.
Christopher Landon Is Today's Most Reliable Name In Horror-Comedy
The writer and director of We Have Ghost — which he adapted from Geoff Manaugh's short story, "Ernest," which Vice published in 2017 — is Christopher Landon, who is known for making some of the best horror-comedy movies in recent memory, in my opinion, with the Happy Death Day movies and Freaky. Admittedly, this new film just barely qualifies as horror, but it is yet another successful attempt from Landon at combining horror-centric elements with humor, proving to me, at least, that he might just be the best working today when it comes to blending these tones together. Further more, he is one of the few who can make such a film surprisingly charming and heartfelt.
To be perfectly honest, I actually still have yet to see Freaky, but I really want to after seeing this movie. In fact, I think this new one is my favorite Christopher Landon movie at the moment ,and is easily one of the best movies on Netflix I have seen so far this year. If you have not already — and I hope you have if you already read this — stream We Have a Ghost on Netflix (opens in new tab) now to see what you think.
Your Daily Blend of Entertainment News
Jason has been writing since he was able to pick up a washable marker, with which he wrote his debut illustrated children's story, later transitioning to a short-lived comic book series and (very) amateur filmmaking before finally settling on pursuing a career in writing about movies in lieu of making them. Look for his name in just about any article related to Batman.