5 Reasons Why Marvel Fans Should Give Moon Girl And Devil Dinosaur A Chance
More of this, please, Marvel.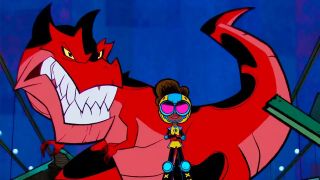 (Image credit: Cinema Gypsy Productions)
Way back in 2021, I wrote an article about five things to know about Moon Girl and Devil Dinosaur since an animated show was on the way.
Guess what? It's finally here! You can watch the whole first season, which consists of six episodes, right now on Disney+. That said, while it's not connected to the MCU like, say, What If…? which fits directly into the multiverse of the Marvel Cinematic Universe, I still think that Marvel fans should give the series a chance, and here's why.
Moon Girl And Devil Dinosaur Is Like Nothing In The MCU (In A Good Way!)
I just mentioned how Moon Girl and Devil Dinosaur isn't connected to the MCU, and it's not. Like, at all. You're not going to be seeing Anthony Mackie making a cameo as the new Captain America. You won't find WandaVision's Teyonah Parris voicing her character from the upcoming The Marvels. You're not going to find any of that.
Let me just say that as a longtime Marvel fan, that's actually a little refreshing. Honestly, and your feelings may vary on this, but as somebody who has kind of gotten off the Marvel hype train as of late when it comes to the MCU, it's pretty cool to just watch the show of a beloved Marvel character (I'll get to that in a moment) and not have to worry about how it connects to the next movie, or how it might impact the next few phases of the MCU.
No, in this show, which features a brilliant 13-year-old girl and her giant dinosaur friend, we just get a series of adventures (one of which is about fighting a literal internet troll), that end in a relatively brisk 24 minutes or so. That's it. It almost reminds me of the good old days when I used to watch all the various Spider-Man animated TV shows, and they'd be their own little stories that didn't connect to some broader narrative. Ah, memories.
The Characters Actually Have A Great Deal Of History In Marvel
You might have seen the series cycle through at the top of Disney+ and thought, is this new? Though, yes, the show is new, the characters are anything but, as Moon Girl, and especially Devil Dinosaur, have a pretty long history in Marvel.
Moon Girl, a.k.a. Lunella Lafayette, debuted back in 2015 in the comic Moon Girl and Devil Dinosaur #1. In the comic, she's 9 rather than 13, and a genius. She's also an Inhuman (Remember them?), but none of that is brought up in the new cartoon. What is brought up is her intellect, as well as her roller skates (especially her roller skates, because her family owns a skating rink), and her boxing gloves. She's not as awkward as she is in the comics, but she's still really fun.
Devil Dinosaur, on the other hand, dates all the way back to 1978. He had his own comic book run with a character named Moon Boy (though, Devil Dinosaur was the star attraction), and he was paired with Moon Girl as a way to bring Devil Dinosaur to the modern era. That said, it's hard to think of Devil Dinosaur even existing without Moon Girl, which is really a testament to how big of an impact she has had since debuting back in 2015. So, if you didn't know, now you do!
It's Fast-Paced And Fun (Especially For Children)
I actually watched the entire first season with my daughter, and she really liked it. The show is fast-paced like a lot of modern day cartoons such as The Amazing World of Gumball, and Teen Titans Go!, and it never lets up, so you're never bored. But, I think it's especially enjoyable for children, since Lunella very much speaks to the younger audience, what with her attachment to social media. Hell, she even has a social media manager, voiced by Sneaky Pete's Libe Barer, named Casey.
In fact, it was my daughter who actually told me that the show was currently on Disney+, as she remembered when we used to read the comics before bedtime (because yes, I'm the type of father who reads comic books to his kids before they go to sleep). The show is much quicker-paced than the comics, and ultimately, I think it's more fun for children in general than the source material. So, if you want a fast-paced show with some Marvel characters, you can't go wrong with Moon Girl and Devil Dinosaur.
The Animation Is Quirky And Unique
What also immediately stuck out to me is just how different and unique the cartoon is from anything in the MCU. This show has an interesting art style that really pops and zings, and it unabashedly gives the spotlight to black and brown characters as it takes place in the Lower East Side of New York.
It's funny, because a lot of Marvel animation has a certain kind of look to it. Do you know what I mean? Like, in the '90s, all the cartoons had a sort of stiff quality, like The Fantastic Four, Iron Man, and the X-Men, and in the 2000s, shows like Spider-Man had a sleeker, almost Kim Possible style to them. Now, Moon Girl and Devil Dinosaur has its own unique style, which is very Teen Titan Go!-esque, but brighter in a lot of ways. It's really cool to see, and one reason why I think Marvel fans should check out this series.
Hopefully, If It's A Success, We Can Get More Less-Famous Marvel Characters In Cartoon Form
Thankfully, the MCU has already blessed us with off-beat Marvel characters like Howard the Duck, Man-Thing, and Werewolf By Night. And yes, I finally got my beloved Moon Knight (which I loved, but also disliked). But, I think Moon Girl and Devil Dinosaur opens the door to even MORE less-famous Marvel characters.
Like, if this show is a success, can we possibly get 3-D Man? Or a legit Squirrel Girl cartoon of her own? Rom the Space Knight could make for a pretty cool cartoon. The fact of the matter is, I think a bunch of Marvel properties could be given a new, animated spin if this show does well, and I think we'd be all the better for it.
So, that's it. Have you checked out Moon Girl and Devil Dinosaur yet? For more news on all things Marvel, make sure to swing by here often.
Your Daily Blend of Entertainment News
Rich is a Jersey boy, through and through. He graduated from Rutgers University (Go, R.U.!), and thinks the Garden State is the best state in the country. That said, he'll take Chicago Deep Dish pizza over a New York slice any day of the week. Don't hate. When he's not watching his two kids, he's usually working on a novel, watching vintage movies, or reading some obscure book.