The Best Gift Ideas For Bridgerton Fans
Are you burning for these gifts?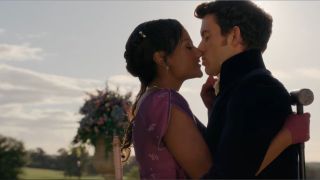 (Image credit: Netflix)
One of Netflix's biggest shows finally came back in 2022 – that's right, I'm talking about Bridgerton. The popular television series that tells the story of the Bridgerton family and their quests for love came back and arguably delivered an even better season than the first, this time following the love story of Kate Sharma and Anthony Bridgerton.
But now we are painfully waiting for Bridgerton Season 3, but as we do, we can at least look to the internet to find some of the best gifts out there that money can buy for the fan in your life – or you just might want some of these for yourself.
Here are some of the best Bridgerton gifts that you can buy right now, in a variety of different places.
This Candle That "Apparently" Smells Like Anthony Bridgerton
Because the first thing you think of when you think of your fictional crush is, "I wonder what they smell like?" Well, thankfully this candle just might answer your burning question – I almost want to buy it to see exactly what he smells like but there's a time and a place – maybe when Season 3 comes back around when he and Kate show up again.
Buy this Anthony Bridgerton candle on Etsy.
"Spill The Tea" Lady Whistledown Mug
I mean, arguably, one of the biggest characters in Bridgerton is Lady Whistledown. And while her identity was revealed at the end of the first season, it doesn't mean that we still can't enjoy the delicious drama that she constantly delivers. Why not drink some of your favorite tea from this "Spill the Tea" Lady Whistledown mug? Goodness, that's tea-ception.
Buy the "Spill the Tea" Lady Whistledown mug on Etsy.
The Bridgerton Book Series
If you don't know at this point, Bridgerton is actually based on a bestselling book series by Julia Quinn, where each story features a different love story from the iconic family that we all know and love today. These Regency romance novels are not only filled with a bunch of those spicy scenes, but plenty of great storytelling that I'm sure will get told in the Netflix series soon enough.
Buy the Bridgerton Book Series on Amazon.
This Bridgerton Coloring Book
Because the first thing you think of when it comes to a hit Netflix series is coloring books, right? Jokes aside, this adult coloring book is perfect for fans of the series to enjoy. Color in these illustrations inspired by the Netflix TV show and create your own fantastical Bridgerton world.
Buy the Unofficial Bridgerton Coloring Book on Amazon.
This Bridgerton Themed Calendar For 2023
If you didn't already have enough Bridgerton when it came to paper products, be sure to buy this themed calendar, featuring many of the characters from Season 2 to get you ready for 2023 – when the next season be out, and I'm praying we get an official release date soon.
Buy this Bridgerton themed calendar at Barnes and Noble.
Elbow Length White Satin Gloves
Why not embrace your inner Daphne Basset and wear these fancy-schmancy gloves to your next big party? You'll be the belle of the ball and everyone's eyes will feast upon you in your fancy clothes while your hands are adorned with this fashionable item.
Buy the White Satin Gloves on Amazon.
This Eyeshadow Palette So You Can Look Your Best At The Holiday Balls
No matter what, everyone wants to look good, and if you have those satin gloves, you need to make your face match – that's why using this Pat McGrath eyeshadow palette that was a collaboration with Bridgerton is your best bet, giving you six very pigmented shades to get your best look on for all the holiday parties coming up.
Buy the Pat McGrath x Bridgerton eyeshadow palette on Pat McGrath.com.
These Bridgerton Themed Hair Products To Make Your Hair Silky Smooth
You have the gloves, you got the make up – let's focus on the hair! Over at Kitsch, their website features several Bridgerton themed hair products that are meant to keep your hair silky smooth, from silk pillowcases to silk scrunchies – and in this case, you get everything in the set to not only make sure your hair is happy, but you're happy for supporting your favorite show. Or you can check out their singular options as well. Plenty of great stuff on their site.
Buy these Kitsch x Bridgerton hair products on Kitsch.com.
This Duchess Of Hastings Sweatshirt To Remind You Of Your Man
Rege-Jean Page really brought the Duke of Hastings to life in Bridgerton, so it's not surprising that everyone sort of wants to be his duchess. This shirt will remind you of just how lucky you are (in your head) to be the Duchess of Hastings and the bride of Simon.
Buy this Duchess of Hastings Sweatshirt on Etsy.
Solve An Amazing Scandal With This Bridgerton-Themed Murder Mystery
Bridgerton is known for its scandals, and while there haven't been any murders in the show, that doesn't mean a murder isn't a scandal! If you want a fun game that also has your favorite Bridgerton-theme, check out this murder mystery game that is centered around the theme of the show and Jane Austen novels.
Buy this Bridgerton-themed Murder Mystery on Masters of Mystery.
An Amazing Art Print Of Simon And Daphne
Out of everything on this list, I have to admit that this is one of my favorites. Daphne and Simon, while a bit of a mess at first, had a genuine love story that turned into something sweet, and one of their cutest moments was their near-hand touch when they were pretending, which showed their chemistry. This art of their hands almost touching is perfect for fans of Bridgerton, but is also just a great piece to have around the house in general that anyone could enjoy, from its simplicity and beautiful design.
Buy this Daphne and Simon Art on Etsy.
And This Beautiful Art Piece Of Anthony And Kate's Hands Together
I had to include this if I did the Daphne and Simon one. From the same seller on Etsy, you can get a really beautiful print of both Anthony and Kate holding hands from Season 2 of Bridgerton. At the end of this show, you're going to have one heck of a collection – but we wouldn't want it any other way, now would we? This art is just too much to pass up.
Buy this Anthony and Kate Art on Etsy.
A Tea Set To Sip Tea While Discussing Lady Whistledown's Tea
If you're going to be listening to Lady Whistledown's tea, you need a tea set to do so. I know I already put a mug on this list but this is for all the tea, and while it's not directly connected to Bridgerton, it may be a great gift for a fan of the series. Coming in three different colors, there are plenty of options for you to pick from if you're craving the ability to make your own tea and spill some at the same time.
Buy this English Tea Set on Amazon.
This Set Of Delectable Teas To Drink
I mean obviously you need tea to drink tea and spill the tea…you get me?
In the Netflix Shop, there's a whole collection of Bridgerton inspired teas for you to steep as you sit and discuss the latest gossip with your friend. There are twenty-four tea bags sampled in there for you to enjoy. Drink away!
Buy this set of teas from the Netflix Shop.
This Replica Of Lady Whistledown's Papers
Now this is a cool find. Lastly, we have this awesome replica of Lady Whistledown's official newsletter papers. As someone who collects replicas, from some of the best fantasy movies like Harry Potter, it's always so cool to find an item that closely resembles something you love, and this is surely one of those. You could keep it in your nightstand, on your desk, frame it, or anything you want, but if you're a fan, this is certainly the piece to get.
Buy this replica of Lady Whistledown's papers on Etsy.
While we all wait for the third season of the Regency romance, at least we have the ability to buy some great gifts not only for ourselves, but for the Bridgerton fans in our lives.
Your Daily Blend of Entertainment News
Big nerd and lover of Game of Thrones/A Song of Ice and Fire. Will forever hate season eight. Superhero and horror geek. And please don't debate me on The Last of Us 2, it was amazing!