12 Great Marvel Easter Eggs In Daredevil Season 2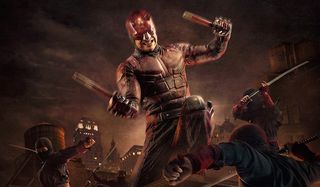 This past Friday, Marvel continued the adventures of Matt Murdock with Daredevil Season 2 on Netflix. Over the 13 episodes, viewers watched as Matt struggled with ideology during his encounters with The Punisher and Elektra, and all while battling gangs, assassins and The Hand. While the sophomore effort might not be better than Season 1, overall consensus to the follow-up has been largely positive, and just like other Marvel projects, there were Easter Eggs aplenty for fans to find!
In case you're not a hardcore Marvel fan and didn't notice some of the subtle references the House of Ideas threw in for fun, we've collected 12 of the best ones that were sprinkled throughout Daredevil Season 2. Whether they connected back to the comics or a previous MCU project, these are the ones you definitely need to know about. Take a look! And though it should go without saying that spoilers are below, know that spoilers are below.
Dogs of Hell
One of the gangs involved in the park shootout that killed Frank Castle's family, and thus one of many targets on The Punisher's mission of vengeance, was the motorcycle-riding Dogs of Hell. But Daredevil wasn't their first appearance in the MCU. The Nevada branch appeared in the Agents of S.H.I.E.L.D. Season 1 episode "Yes Men," where the Asgardian Lorelei enlisted their services. With Lady Sif and the S.H.I.E.L.D. team having taken down those members, and Daredevil having beaten up most of the Hell's Kitchen members, the gang's influence across the U.S. is diminishing more and more.
Samantha Reyes
Samantha Reyes was one of the most important recurring characters in Daredevil Season 2. Originally desperate to take out Franks Castle in order to move her political career forward, she eventually revealed to the Nelson & Murdock team that she was behind the botched sting operation that led to Frank Castle's family being murdered. Minutes later, she was gunned down by the Blacksmith in an attempt to frame Frank. However, Daredevil wasn't her first time gracing the MCU with her presence. Reyes previously appeared in the Jessica Jones Season 1 finale, where she accused Jessica of killing Kilgrave in cold blood. Jeri Hogarth soon arrived to defend Jessica, leaving Reyes without a win.
Detective Oscar Clemons
In "Dogs to a Gunfight," Brett Mahoney tells Foggy and Karen some police advice he learned from a co-worker named Clemons. He's referring to Oscar Clemons, the detective who was assigned to the Hope Shlottman case and later assisted Jessica Jones in capturing Kilgrave once she convinced him of his mind-controlling abilities. Shortly after Kilgrave escaped imprisonment, Clemons was killed by Will Simpson, who believed (thanks to those Combat Enhancers) that Clemons was hindering his goal of eliminating Kilgrave permanently. Also, in case you missed it during your first Jessica Jones binge, Mahoney briefly cameoed in that series when Kilgrave took control of the police station in "AKA Top Shelf Perverts."
Luke Cage
When Foggy visited Claire Temple in "New York's Finest," she mentioned how she's already been in trouble with the hospital for helping out a "big guy" with unbreakable skin. This, of course, is Luke Cage, who played a major role on Jessica Jones Season 1, but found himself badly injured at the end of "AKA Take a Bloody Number," leaving Claire to treat him in the Season 1 finale. No specific spoilers here on what happened to him, but since his Netflix series in coming in September 30, you don't have to worry about him being horribly mangled.
Daredevil's Gun Moment
One of the most dramatic moments in Daredevil Season 2 was the conclusion of Daredevil and Punisher's ideology argument in "New York's Finest." After Frank knocked the still-chained Matt out, Matt awoke with a gun with one bullet in it taped to his hand. Frank then gave Daredevil a choice: either shoot Grote, the Nelson & Murdock informant who had committed horrible crimes, or shoot Frank so he wouldn't kill Grote. This dilemma is a close recreation of 2000's Punisher #3, where Punisher pulled the same stunt, only this time he was sniping at an unseen criminal. In that story, Daredevil ended up pulling the trigger, but he was shocked to learn Frank took out the firing pin and that it was all a twisted mind game. As for the TV show, Matt was unwilling to take either life, and instead shot his weakened chains off and tackled Frank. Unfortunately for Grote, Frank still managed to kill him, and he still got in a sniping moment when he targeted the Dogs of Hell across the street. This led to that intense apartment building fight between Daredevil and the gang members, who believed the Man Without Fear was the one who tried to kill them.
Melvin's Armor
Melvin Potter continued to be Daredevil's armor designer in Season 2, but he also made a little protection for himself. After giving the vigilante his new cowl and costume, he showed off some blue armor he was wearing underneath his shirt. This was another nod to Melvin's time as the comics' Gladiator, who started out as one of Daredevil's enemies but later reformed. So far, there's no indication Melvin will take on a costumed persona on Daredevil, but with his own armor and those saw blades around his workshop, it's certainly possible.
Jessica Jones
Foggy reunited with his ex-girlfriend Marci Stahl in "Kinbaku" to learn more about Reyes' crusade against Castle. Marci told him that she's basically started a witch hunt against all vigilantes across New York, including a woman named Jessica Jones. No need to elaborate on this one, though presumably Reyes is still sore about what happened in the Jessica Jones Season 1 finale. Or she would be if she wasn't dead.
Kingpin
Unless you're totally unfamiliar with Spider-Man and Daredevil's mythology, this one should have been immediately obvious. During Wilson Fisk's first day in prison, the power-mongering inmate Dutton tells Fisk not to get any ideas about seizing power, telling him that he, Dutton, is "the Kingpin of this bitch." Well, unfortunately for you, Dutton, Kingpin is Fisk's moniker in the comics, and thanks to a sneaky deal with Frank Castle on Daredevil, you're now dead and he's the new "kingpin" of the prison. Fisk's next step: becoming the Kingpin of New York City.
Benjamin Donovan
Wilson Fisk received regular check-ins from his lawyer, Benjamin Donovan, who has no qualms about handling seedy transactions for his client provided the money doesn't run out. What's interesting about Donovan's inclusion is that in the comics, he has played a role in Luke Cage's life, both as the bulletproof hero's legal representation and his enemy. It's doubtful we'll ever see Daredevil's Mr. Donovan in a fight, though it does beg the question of if we'll see him in the Luke Cage series working for one of Harlem's criminals, like Cornell "Cottonmouth" Stokes.
Jeri Hogarth
Nelson & Murdock officially disbanded in Daredevil Season 2, which meant that Foggy had to find a new job. Fortunately, Marci's new firm was looking at adding Foggy to the team, and that firm's name is Hogarth, Chao and Benowitz. If you watched Jessica Jones, that first name should have rung a bell, and sure enough, Carrie-Anne Moss' Jeri Hogarth appeared in the finale to interview Foggy for the job. After the tragedy she endured in Jessica Jones Season 1, Jeri's career was about the only thing in her life that was still stable, and we can see she hasn't lost her position at the top. Now we're left wondering if Foggy or Marci might pop up in Jessica Jones Season 2.
Elektra's Death
If you read 1982's Daredevil #181 or saw the 2003 movie, you know that she inevitably meets her demise in battle. Sure enough, that's what happened in the Daredevil Season 2 finale while she and Matt were battling The Hand, and just like previous times, her death came by one of her own sai, although Nobu was responsible rather than Bullseye. However, what's also common knowledge is that Elektra is eventually resurrected, and judging by her body being dug up and being placed in that mysterious stone coffin, that's what's in store for the MCU's future.
Microchip
After killing a few ninjas for Daredevil, Frank Castle (now wearing the Punisher skull on his chest) returned to burn his family home to the ground, thus cutting off the last ties to his former life. Before setting it ablaze, he collected a few things, including a CD labeled "Micro" that's hidden behind a family photo. This is a reference to Microchip, the man who started out as Punisher's weapons and technology supplier, but eventually became his enemy. Before Daredevil Season 2 premiered, there were rumors about Punisher getting his own Netflix series. That has yet to be confirmed, but given how well received Jon Bernthal's portrayal of the character has been so far, Marvel is likely giving more thought about the gun-toting vigilante leading his own adventure. If that happens, could we see Microchip as a supporting character?
Your Daily Blend of Entertainment News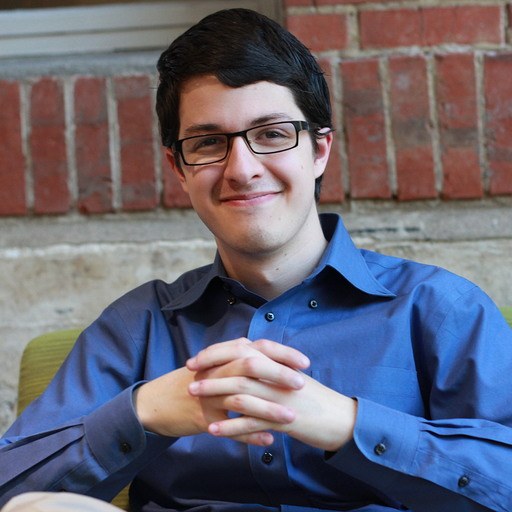 Connoisseur of Marvel, DC, Star Wars, John Wick, MonsterVerse and Doctor Who lore. He's aware he looks like Harry Potter and Clark Kent.