Rob Lowe Will Be The Next Celeb Put On Blast For Comedy Central Roast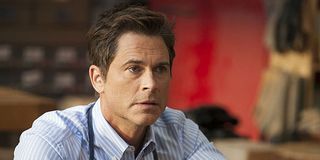 There's nothing like a roast to deliver a brand of entertainment that is both totally cringeworthy and epically hilarious. Comedy Central has been hosting roasts of celebrities since 2003, and they've provided some unforgettable moments as famous folks large and small always come out for an evening of truth bombs and mockery. Luckily for those of us who have been waiting for word of the next big roast, Comedy Central has officially announced the next celebrity to end up in the hot seat, and it'll be Rob Lowe taking the stage to face his fellow celebs for an evening of roasting.
Past roastees have included Donald Trump, Charlie Sheen, and Justin Bieber, and Rob Lowe seems almost painfully admirable compared to some of those predecessors. He's a good-looking man who only seems to get more handsome with age, he's found success on the small and large screens alike, and he's proved himself capable of tackling both comedy and drama. Sure, he had a sex tape scandal back in the late 1980s, but there have been so many sex tape scandals since that Lowe's is a distant memory. He's even roasted himself about it. On the whole, Rob Lowe circa 2016 just seems like a pretty good guy.
And what that really means is the 2016 Comedy Central Roast could be the funniest yet, since the roasters will have to be pretty creative to really scorch him. Who among us can't claim a sort of vindictive joy at seeing an epic burn on somebody who's actually pretty cool?
Of course, Rob Lowe's professional life hasn't been entirely cool lately. He landed the role of Dean Sanderson on the Fox sitcom Grinder that brought plenty of laughs, but the show failed to garner the ratings to stay on the air. Fox cancelled Grinder after only one season, and so the roasters will be able to milk that particular misfortune for all it's worth. His past successful runs on The West Wing, Brothers and Sisters, and Parks and Recreation might be easy to overlook in the immediate aftermath of Grinder.
Personally, I'm looking forward to seeing if any of the roasters bring up Lowe's role as the voice of Simba in 2015's The Lion Guard. It wasn't his most famous recent role, but something tells me that there's plenty of comedy to be mined when it comes to a man voicing a lion in a spinoff sequel TV show based on a 1994 animated movie.
There's no news just yet of when we can expect to see Rob Lowe roasted on Comedy Central. Luckily, Netflix subscribers can do some bingewatching to prep for whenever the roast finally hits the airwaves. Both The West Wing and Parks and Recreation are available in entirety, so there's plenty of Rob Lowe material to stream. To see what else you can watch to pass the time, check out our summer TV premiere schedule.
Resident of One Chicago, Bachelor Nation, and Cleveland. Has opinions about crossovers, Star Wars, and superheroes. Will not time travel.
Your Daily Blend of Entertainment News
Thank you for signing up to CinemaBlend. You will receive a verification email shortly.
There was a problem. Please refresh the page and try again.