First Look At Ozzy Osbourne's New TV Show Is Predictably Strange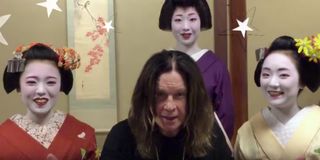 Well, Ozzy Osbourne has a new reality series debuting this summer, and it's just as weird as you'd think it would be. Prepare to see a slightly different side of the Prince of Darkness than we're used to. Take a look.
OK. Wow. If anyone among you dares to say that this is what you were expecting to see from Ozzy Osbourne, I'm going to step out on a limb and call you a big fat liar. There's just no way anyone could have seen this coming. This teaser for Ozzy & Jack's World Detour appeared on the History Channel YouTube page, and, well, you saw it. What the hell, man.
I seriously don't know what to say. Apparently, at some point in the recent past, Ozzy Osbourne and his son Jack got into a relatively small camper van and traveled across the United States to see some historical sites, because, you know, that ol' Prince of Darkness is a total history nerd. As any self-respecting Prince of Darkness would be. There are also clearly some non-U.S. stops featured on the show, which there'd better be if the word "World" is going to be in the title of your show. So, here's what we better see: a shot of Ozzy traveling inside that camper van as it crosses the ocean (any old ocean will do) on a boat. I mean, really, I think that would be the highlight of the series.
Ozzy Osbourne, also known as the Godfather of Heavy Metal, first garnered attention for his work as the lead singer of Black Sabbath in the early 1970s. After getting fired from the band about a decade later, he went on to have a very successful solo career, and his total album sales (from Black Sabbath and during his solo work) is at over 100 million. As a member of Black Sabbath, he was inducted into the US Rock and Roll Hall of Fame, and was inducted into the UK Music Hall of Fame for both his solo career and work with the band.
While people still fondly remember Ozzy's time as a force in heavy metal music, most people who came of age during the early 2000s, or those who didn't follow metal of the '70s and '80s, best know him as the crazy, mumbling dad on The Osbournes. The reality show followed Ozzy, his wife/manager Sharon and two of their kids, Kelly and Jack. The MTV show began in 2002, and became the most viewed series ever on MTV during its first season. The show, which ended in 2005, can easily be blamed for the glut of famous-person-at-home reality shows that have sprung up since the series debuted.
I can't help but wonder whose crack-headed idea this brilliant bit of madness was. Who's sitting around thinking, I wonder if Ozzy Osbourne would like to mumble incoherently about history while we force him into awkward historical-ish situations on camera with his son Jack looking on? Actually, I suppose that doesn't even matter. The genius who decided to have Ozzy sit with a group of geishas and let the Madman near a tank deserves our appreciation. You'll be able to fill your summer with this sure-to-be-comical weirdness beginning July 27 on History.
Yennefer's apprentice, Gilmore Girl; will Vulcan nerve pinch pretty much anyone if prompted with cheese...Yes, even Jamie Fraser.
Your Daily Blend of Entertainment News
Thank you for signing up to CinemaBlend. You will receive a verification email shortly.
There was a problem. Please refresh the page and try again.