Drew Barrymore Is Probably Getting Her Own Talk Show, Here's What We Know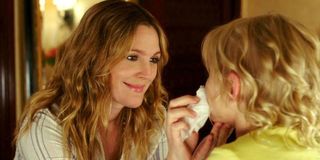 Drew Barrymore may mostly be known for her acting and producing, but she's about to take a step into another entertainment arena. She might be coming to our TV screens every day with her own talk show before too long.
According to Deadline, Drew Barrymore is currently trying to iron out a deal with Warner Bros. for television projects that might include a talk show that would be syndicated by Telepictures Productions. The talk show could arrive on TV as soon as the fall of 2017. The talks for this project are still in the beginning stages, and it's possible that the final product that arrives on television will actually be a reality show instead of a syndicated talk show. This would be Barrymore's first major work in TV; aside from a few TV movies in the 1980s and 1990s, the very short lived series 2000 Malibu Road in 1992 and the new Netflix show she just signed on to, her career has been focused on the big screen.
If Drew Barrymore does end up signing on for a talk show, she'll be skating uphill. For every Oprah Winfrey, Steve Harvey, Ricki Lake or even Jerry Springer, there are dozens of talk show hosts like Queen Latifah, Tony Danza, Meredith Vieira and Tempestt Bledsoe (yes, Vanessa from The Cosby Show had a talk show) who just can't find and keep an audience for long enough to become one of the talk greats. But, as with everyone who tries their hand at this TV genre, there's always hope that they'll be the next Ellen Degeneres.
As with most of the actors turned talk show hosts listed above, this particular career step tends to come along when things in movies or other television projects start to dry up. Drew Barrymore became famous as a young child after appearing in E.T., and while she's rarely lacked for work in the years since, her work lately hasn't exactly shown the broadest range of what she might be able to do as an actress. And, seeing as how she's been producing films like Never Been Kissed, Charlie's Angels and How to Be Single since 1999, it makes a lot of sense that she would want to take her time on camera in another direction.
For Drew Barrymore to make a talk show work, she'll need for her show to really connect with the audience. Let's face it, at this point every topic that could be discussed on a talk show has been covered ad nauseam. The only way to differentiate her show from the others currently on the air is to make sure that the bubbly, free-wheeling personality that we all know and love shines through no matter who she talks to and what they talk about. After all, if we can't love the lady who flashed her boobs to David Letterman 21 years ago while she's doing her own talk show, there's really no reason for Barrymore to do this at all.
Bachelor Nation, Gilmore Girl; will Vulcan nerve pinch pretty much anyone if prompted with cheese...Yes, even Jamie Fraser.