Baywatch: The Cast Then And Now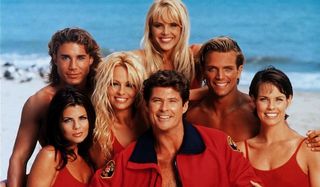 Baywatch was an action drama series that spent more than a decade following the exploits of a group of young, gorgeous, and athletic lifeguards who liked to run slow-mo through the surf on beaches. The women made one-piece bathing suits look skimpy, the men were hunky, and the entire cast gave unrealistic expectations of what beach lifeguards should look like. It was pretty awesome.
Baywatch ran for eleven seasons, off and on from 1989 - 2001. The first nine were set in Los Angeles, and the last two moved the show and key members of the cast to Hawaii for Baywatch Hawaii. The year 2003 featured a reunion special called Baywatch: Hawaiian Wedding. Now, a Baywatch movie is in the works with The Rock and Zac Efron for 2017, so the time is right to look back at the cast of the original series and see what they've been up to.
Pamela Anderson
Pamela Anderson spent five seasons on Baywatch as blonde bombshell C.J. Parker, who didn't let the attentions of many of the men on the beach get in the way of her dedication to the job. Anderson is probably best remembered - aside from that pesky sex tape - as one of the characters who spent a lot of time slow-mo running through the surf. Shortly after returning to C.J. for Hawaiian Wedding, Anderson lent her voice talents to the character of Erotica Jones on Stan Lee's animated series Stripperella, then starred in the Fox sitcom Stacked for both of its two seasons. She had a recurring role on Canadian series Package Deal in 2013 before taking dramatic turns for the short film Connected in 2015 and the Canadian movie The People Garden in 2016. She's set to appear in some capacity in 2017's Baywatch.
David Hasselhoff
David Hasselhoff - perhaps better known these days as The Hoff - was the longest-running cast member of Baywatch. He was a regular in 10 of the 11 seasons and appeared in 221 episodes as Mitch Buchannon. Mitch was a beach hunk/father figure who moved up the lifeguard ranks over the years. Hasselhoff left Baywatch as a regular after the first year of the updated Baywatch Hawaii, although he returned to star in Hawaiian Wedding in 2003. In the years since, he's played fictionalized versions of himself in projects ranging from The SpongeBob Squarepants Movie to Newsreaders to the episodic mockumentary Hoff the Record. He tackled the role of Gilbert Grayson Shepard in Sharknado 3: Oh Hell No! and is set to reprise the role in the upcoming Sharknado 4: The 4th Awakens on Syfy. Hasselhoff will appear in the 2017 Baywatch movie.
Jeremy Jackson
Jeremy Jackson played Mitch's son Hobie Buchannon. Hobie stayed with his dad despite his parents' divorce. The character was portrayed by another young actor in Season 1. Jackson came in for Season 2 and stuck around all the way through to Season 9. Jackson returned for Hawaiian Wedding, but set his sights on non-Baywatch projects thereafter. He turned up in the bizarre role of Xavier in the even more bizarre boy band horror thriller Ring of Darkness in 2004, then mostly had minor roles until he landed the recurring part of Kevin in OutTV's DTLA in 2012. Unfortunately, Jackson might be best known for the drug addiction he developed during his time on Baywatch. He'll soon reunite with members of the Baywatch team for The B Team, which will be an action comedy reality movie about CIA spies who went undercover on a popular TV show.
Gregory Alan Williams
Gregory Alan Williams played police officer Garner Ellerbee, who patrolled the beach and befriended the lifeguards despite hating the water. He showed up in Season 1 and popped in and out until Season 8. After leaving Baywatch, he joined CBS police drama The District for a few seasons from 2001 - 2003. He spent the next several years making the rounds on the guest star circuit, notably appearing in Monk, The Game, and Law & Order: SVU. He won the recurring role of Coach Pat Purnell on USA's Necessary Roughness from 2011 - 2013, and he's started on ABC's drama Secrets and Lies in 2015. In 2016, he played Chief Besser in the CW event series Containment.
Alexandra Paul
Alexandra Paul played Stephanie Holden from Seasons 3 - 7 of Baywatch. Although Stephanie had a troubled past, she formed a very serious relationship with Mitch. The character died in Season 7 due to a lightning strike. Paul appeared in Hawaiian Wedding as Stephanie's doppelganger Allison Ford. Shortly after leaving Baywatch, Alexandra Paul took on the recurring role of Terry O'Brien in Melrose Place. She's since starred in no less than thirteen TV movies that covered just about every genre, ranging from A Lover's Revenge in 2005 to Firequake in 2014. She wrote and will star in The B Team alongside other Baywatch alum, and she too will turn up in Sharknado 4: The 4th Awakens.
David Chokachi
David Chokachi played aspiring Olympic swimmer Cody Madison. Cody's Olympic dreams were unfortunately ruined by an irregular heartbeat. His heart problem didn't stop him from sweeping plenty of ladies off their feet on the beach during Seasons 6 - 9. After Baywatch, Chokachi went on to star in TNT's Witchblade, which lasted for two seasons following a separate pilot in 2000. He was back at the beach for The N's Beyond the Break as surf instructor Justin Healy from 2006 - 2009. He's spent most of his time on the TV guest star circuit since the end of Beyond the Break, although he did star in Lifetime original movie Cyber Case. He'll join others of the old Baywatch crew for The B Team.
Yasmine Bleeth
Yasmine Bleeth played Caroline Holden, who was the younger sister of Alexandra Paul's Stephanie Holden. She was frequently the very stubborn subject of relationship troubles. Bleeth first showed up as a recurring character in Season 4 before being promoted to regular for Seasons 5 - 7. She recurred once more in Season 8. After leaving Baywatch, she joined CBS' police drama Nash Bridges. She left Nash Bridges to star in Aaron Spelling's Titans, which lasted for only one season from 2000 - 2001. Bleeth hasn't done much since reprising her role as Caroline for Hawaiian Wedding, although she's has been attached to upcoming movie Beautiful Evil.
David Charvet
David Charvet played lifeguard Matt Brody from Seasons 3 - 6. Matt lost his job at one point when he became victim of a false sexual harassment lawsuit. He returned to the job when the lawsuit fell apart, but he ended up leaving for France rather than deal with some of his relationship woes on the beach. David Charvet moved from Baywatch to spend three years on Melrose Place. He retired from major roles to focus on music following Melrose Place. He showed up in the 2010 TV movie The Perfect Teacher and the 2013 adventure horror film Prisoners of the Sun.
Gena Lee Nolin
Gena Lee Nolin played bad girl Neely Capshaw in Seasons 6 - 8. Neely reformed when she became a lifeguard. Despite a few slips back into her manipulative ways, she eventually married (and then re-married) Mitch. Gena Lee Nolin won the starring role of Sheena on the action adventure fantasy series Sheena after leaving Baywatch. She returned to the character of Neely for Hawaiian Wedding, then left showbiz. Nolin will reportedly join others of Baywatch for The B Team, and she has a role in Sharknado 4: The 4th Awakens.
Kelly Packard
Kelly Packard played lifeguard April Giminski, who is perhaps most notable in hindsight as the only big Baywatch actress to be kept on when the show moved the action from Los Angeles to Hawaii. Interestingly, Packard played more characters than just April on Baywatch. In addition to Seasons 8 and 9 as April, Packard turned up in Seasons 2, 3, and 6 in different roles. The actress hasn't done much since leaving Baywatch in 1999. She had roles in the movies The Killing Point and Auto Focus in 2002, then popped up again in 2010 as Suzy in My Girlfriend's Boyfriend. Packard will be part of The B Team when it enters production.
Jason Simmons
Jason Simmons played the trouble-making lifeguard Logan Fowler throughout Seasons 5 -7. Logan came to California from Tasmania as a participant in a lifeguard exchange program, because that is definitely a real thing. He had a great reputation as a guard but didn't fit well with the rest of the team in Los Angeles. After leaving Baywatch, Jason Simmons scored the role of Victor in a pair of minor Frankenstein movies. He played Jonathan Hunter in the violent cult film Mad Cowgirl. Simmons returned to the ocean blue to appear in Sharknado in 2013. He had a major role in 3-Headed Shark Attack in 2015, which was of course the sequel to 2012's 2-Headed Shark Attack. He is set to show up in the B Team film.
Erika Eleniak
Erika Eleniak played Shauni McClain for the first three seasons of the series. She started out as a newbie lifeguard, but she grew into her role as a protector of the beach by the end of her time on Baywatch. Erika Eleniak appeared in CBS police drama Brooklyn South for three episodes in its first and only season, then moved to Fantasy Island for a pair of episodes. She's appeared in a handful of TV movies over the years before making it back to a big ongoing primetime show with a guest stint on CSI: Miami in 2010. She turned up next in an episode of Desperate Housewives in the same year, then moved back into TV movies with Holiday Spin in 2012.
Brooke Burns
Brooke Burns joined Baywatch in Season 9 as Jessie Owens, who began as a cleaner but was ultimately promoted to a lifeguard. Burns moved to the big screen immediately after Baywatch to appear in Shallow Hal. She returned to TV for roles in series such as North Shore and Pepper Dennis. She landed a role in the CW update of Melrose Place in 2009, then moved to the world of TV movies. Her latest ventures have been Hallmark movies The Gourmet Detective and The Gourmet Detective: A Healthy Place to Die
Jason Brooks
Jason Brooks played exemplary lifeguard Sean Monroe for the two seasons of Baywatch following the move to Hawaii. Sean blamed himself for the drowning death of his son and his subsequent divorce, but he gained the faith of Mitch in doing his job and managing the other guards. After the end of Baywatch, Jason Brooks became a guest star regular, appearing first on Charmed and then turning up on shows that ranged from The Suite Life of Zack and Cody to Torchwood. He had minor roles in Star Trek in 2009 and Super 8 in 2011. In 2014, he starred in Animal Planet's Blood Lake: Attack of the Killer Lampreys with Shannen Doherty. Brooks had a one-episode part on NCIS: Los Angeles earlier this year.
Carmen Electra
Carmen Electra played lifeguard Lani McKenzie, who dreamed of becoming a famous dancer rather than staying a guard in the long term. She ultimately left the lifeguard life behind to try her hand at dancing in Las Vegas. After reuniting with the Baywatch crew for Hawaiian Wedding, Electra spent the next several years as a guest star all over the small screen. She started with Greetings from Tucson and worked her way up to American Dad! and House. Electra began the Naked Women's Wrestling League, which began in 2004 and officially ended in 2009. More recently, she starred in 2014's Lap Dance and 2015's Book of Fire.
Jason Momoa
Jason Momoa played the lifeguard Jason Ioane in the last two seasons of Baywatch. Jason was only 19 years old when he became a lifeguard for the Baywatch crew, but his strong water skills made up for his youthful stubbornness. Momoa found post-Baywatch success on the small screen with parts on North Shore from 2004 - 2005, Stargate: Atlantis from 2005 - 2009, and Game of Thrones in 2011. Although his character died in Season 1 of Thrones and only returned for a small Season 2 cameo, Khal Drogo introduced Momoa to a massive audience. In 2015, Momoa landed what may be the role of a lifetime. He'll play Aquaman in the DC film universe, and he made his debut in a Batman v. Superman cameo. Momoa will get a formal introduction as Aquaman in 2017's Justice League, then star in his own Aquaman solo movie in 2018.
Resident of One Chicago, Bachelor Nation, and Cleveland. Has opinions about crossovers, Star Wars, and superheroes. Will not time travel.
Your Daily Blend of Entertainment News
Thank you for signing up to CinemaBlend. You will receive a verification email shortly.
There was a problem. Please refresh the page and try again.