How Nancy Grace Reacted When She Was Asked About Her Show Exploiting Dead Children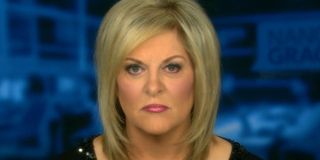 It's been just a few months since Nancy Grace announced she would be leaving HLN, the network that housed her and her program Nancy Grace for the past 12 years. The series has been known for the distinct and often aggressive tactics Grace used when discussing or interacting with purported criminals. Her personality made her a household name, but her coverage of high-profile murder cases, many of them involving children, has not made her popular with some. This week, the host took an interview with Jim Norton and Sam Roberts, who took her to task for "capitalizing on dead kids." Here's how Nancy Grace responded.
At first, the former HLN host attempted to defend her television programming, noting that she helps to find missing people. She later clarified her role as:
But as she was badgered more and more by Jim Norton and Sam Robert, she eventually gave up, suggesting the two men didn't really ask her there for a competent interview and had been repeating themselves. Said Nancy Grace per Rawstory:
She then took the liberty to walk out of the interview and move along with her day. Reaction to the exchange has been mixed. Grace is right in that neither Norton nor Robert seemed interested in a fair and balanced interview, but on the other hand, her alleged exploitation of tragedy is the main critique that has followed her around for years. She should be prepared to answer charges along those lines when she does interviews.
Regardless of your opinion on Nancy Grace and even her employees have very strong opinions, it's pretty clear the reason she did so well in the ratings for so many years was because she's captivating. She never backs down from an argument, and she never sugarcoats what she's trying to say. She's a complete wildcard, and in an age of softball questions and slaps on the back, her tenacity really stood out. She was relentless. Whether her means of intimidating, bullying and acting abrasive toward the family members of missing children was warranted given she was trying to find those same kids, however, is something individual people will have to decide for themselves.
Nancy Grace's final episode of her hit show airs on October 13th on HLN. By this point, you've probably already decided whether you have any interest in checking it out.
Your Daily Blend of Entertainment News
Reality TV fan with a pinch of Disney fairy dust thrown in. Theme park junkie. If you've created a rom-com I've probably watched it.