Mindy Kaling Is Heading Back To Network TV For A New Show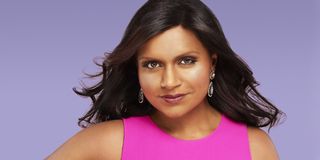 Watch out, Hulu, Mindy Kaling is heading back to network TV. News broke this week that The Mindy Project actress has a new series in the works over at NBC. The project is currently untitled, but it would feature Mindy Kaling both producing and playing a recurring role on the potential series.
Mindy Kaling wouldn't be the star of the latest project she is putting together alongside Charlie Grandy, who will also executive produce. Instead, the currently untitled project would follow Vince, a gym owner who is being described as "charismatic." His life is simple--he works at a gym, he goes out, he dates women and he shares a home with his younger brother Michael, who kind-of sounds like a Kelso type. (Good-looking but really dumb, if you never watched That '70s Show; weirdly Kelso's first name was also Michael.) That would be a pretty straightforward premise without a twist, but don't worry, there is one. Early on, Vince's high school girlfriend, Priya (Kaling), would drop off Vince's teenaged son. Let the shenanigans ensue!
So far, this untitled project has gotten a pilot order from NBC, which doesn't guarantee that it will ultimately go to series. However, The Mindy Project and The Office have made Mindy Kaling a pretty well-known name in the TV business. Additionally, Grandy is a writer and producer on The Mindy Project, who also has major experience on The Office, The Daily Show and more. We wouldn't be surprised if this one were to move forward, although Kaling has stated in the pass that she does not miss the ratings grind that is a major part of network TV.
So, what does this mean for The Mindy Project? Right now, that's a pretty big question mark. Currently, The Mindy Project is airing its fifth season on Hulu, and the future of the series is up in the air, just like the future of this NBC project. If The Mindy Project were to get picked up for Season 6 and the untitled pilot were to move forward at NBC, it's possible that Mindy Kaling could be around for both, as she would only be recurring on the NBC series. It would honestly really depend on how much work she would be doing on both series, and we already know the answer in regards to The Mindy Project is that she does a lot. Variety says she is writing and executive producing the pilot, but duties could be handed off if the untitled comedy moved forward. Then again, _The Mindy Projec_t could absolutely be on its way out. Originally, Hulu ordered 16 episodes of the show for Season 5, but that episode count was subsequently dropped to only 14 episodes. It's safe to say that Mindy Kaling has a lot of options heading into the 2017-2018 TV season, and hopefully at least one of them will pan out.
For now, you can catch The Mindy Project over on Hulu. To find out when the rest of your favorites are returning, take a look at our midseason premiere schedule.
Your Daily Blend of Entertainment News
Reality TV fan with a pinch of Disney fairy dust thrown in. Theme park junkie. If you've created a rom-com I've probably watched it.
Your Daily Blend of Entertainment News
Thank you for signing up to CinemaBlend. You will receive a verification email shortly.
There was a problem. Please refresh the page and try again.