The One Catwoman Story That Influenced Gotham's Selina Kyle, According To The Actress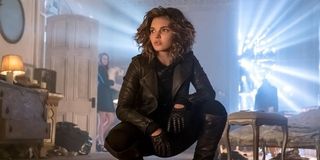 For three seasons now, Gotham on Fox has been telling the origin stories of some of the most iconic characters of DC Comics history. While any plots set in Gotham City are bound to trace back to Bruce Wayne at some point, we've seen special focus throughout Season 3 on young Selina Kyle, whose coming of age tale also happens to be a transformation into the legendary Catwoman. Actress Camren Bicondova spoke with CinemaBlend earlier this year, and she revealed one Catwoman story that inspired her performance in Gotham, saying this:
Catwoman has been a presence in DC Comics in some fashion or other since way back in 1940, and fans have plenty of examples of her pulling off heists and stealing jewels and meeting with Batman on rooftops. What we haven't seen too much of is Catwoman as a young girl, but Camren Bicondova clearly found a comic story that helped shape her interpretation of her character on Gotham. In fact, Selina's comic story sounds an awful lot like Selina's Gotham story in Season 3. There are certainly differences, but Selina was indeed stuck in an orphanage, and her mother wasn't exactly discouraging her from her life of crime.
In fact, the arrival of Selina's mom back on the scene in Season 3 has really seemed to jumpstart her transformation into a character more closely resembling Catwoman. Camren Bicondova also told me that after her ordeals with her mom in Episode 13, Selina was "actually going to believe in herself" as a "strong independent lady." It sounds like we're in for an exciting new version of Selina moving forward.
Unfortunately, going by the recent trailer for the rest of Gotham Season 3, Selina clearly won't have an easy time ahead of her. Instead of leaping around rooftops and breaking into the unbreakable, the trailer shows Selina lying motionless in an alley, surrounded by broken glass (and cats). While the staging is so similar to an iconic scene from Batman Returns that I can't help but be delighted by the imagery, poor Selina is clearly in some pretty dire straits. We can only hope that she'll rise stronger than ever after whatever caused her fall through what appears to be a big window.
At the very least, she may need to be up and about enough to smack some sense into Bruce at some point. He seems poised to go further on his own path to becoming the Dark Knight, but that path happens to feature folks like Ra's al Ghul and members of the Court of Owls. His situation could get ugly fast, and we can bet that he'll need all the help he can get by the end of the season.
Assuming Gotham gets the go-ahead for Season 4, we may see some changes in store for our future Catwoman. There has been talk of a Gotham City Sirens-esque lineup of ladies next season. While the Gotham version of the Sirens would inevitably differ from the comic version comprised of Catwoman, Harley Quinn, and Poison Ivy, it could definitely work. I know I'd be on board for a group of awesome Gotham ladies causing their own brand of mayhem.
Gotham has been on hiatus for months now, but it will finally return to the airwaves on Monday, April 24 at 8 p.m. ET on Fox. Be sure to tune in to catch Camren Bicondova in action as Selina Kyle, and don't forget to check out our summer TV premiere schedule to discover your viewing options once Gotham Season 3 comes to an end.
Resident of One Chicago, Bachelor Nation, and Cleveland. Has opinions about crossovers, Star Wars, and superheroes. Will not time travel.
Your Daily Blend of Entertainment News
Thank you for signing up to CinemaBlend. You will receive a verification email shortly.
There was a problem. Please refresh the page and try again.