Marvel's Squirrel Girl And More Have Finally Been Cast For The New Warriors TV Show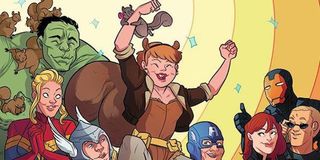 Superheroes are a big deal in showbiz today, with projects on big screen and small screen alike creating all sorts of buzz. Marvel has a new project in the works for TV with New Warriors, which will air on Freeform at some point in 2018. We've known for a while that Squirrel Girl would be the leading lady of the superhero ensemble in the new comedy, but we haven't known who would bring Squirrel Girl to life. Now we have our answer: Milana Vayntrub has landed the leading role.
Milana Vayntrub will play Doreen Green, a.k.a. Squirrel Girl. With her squirrel-esque superpowers, she'll lead the group of heroes in their New Warriors adventures. Given that New Warriors is a comedy, we can bet that there will be plenty of hijinks and shenanigans in addition to any action, which is probably for the best. A superhero with squirrel powers probably won't strike terror into the hearts of criminals everywhere, but she could be a fantastic comedic hero. Doreen is optimistic and considers a squirrel named Tippy Toe to be her best friend. As Vayntrub is best known for her recent role as Sloane Sandburg on NBC's breakout hit This Is Us, it should be interesting to see what she can do in a new genre.
The male lead of New Warriors has been cast as well. Derek Theler of Baby Daddy will play Mister Immortal in the new series. Known as Craig Hollis in his civilian life, Mister Immortal is seemingly impossible to kill. No matter what bad guys throw his way, he uses his unique powers as well as his skills as athlete and acrobat to help fight the good fight. He'll also be the troublemaker, and what group doesn't need a troublemaker to keep things exciting?
The rest of the ensemble has also been filled out. THR reports that Jeremy Tardy will play Night Thrasher, a.k.a. Dwayne Taylor, who is brilliant, entrepreneurial, and a smidge full of himself. He also believes in justice, which means that he and his combat abilities should be very helpful to the team. Calum Worthy will play Speedball, who is also known as Robbie Baldwin. Robbie is an overconfident people-pleaser whose ability to throw kinetic balls of energy can get out of control, but he's thrilled to be part of the team of superheroes.
The very unusual superhero known as Microbe will be played by Matthew Moy. Known as Zack Smith when he's not out fighting crime, Microbe can communicate with germs to tell where you've been and what you did. Keeping secrets is not really an option around him. He's also a total hypochondriac, which should be worth a laugh. Finally, Kate Comer will play Deborah Fields, a.k.a. Debrii. Proud, witty, and confidently out as a lesbian, Deborah is a low-level telekenetic. She won't be able to do too much with her powers to start, but we can bet that she'll become more powerful with time.
New Warriors was ordered straight to series months ago, so we'll get to see at least one full season with this crew in action as the titular Warriors. As the show won't be out until 2018, swing by our 2017 Netflix premiere schedule and our summer TV guide to discover what you can watch to pass the time until New Warrior debuts on Freeform.
Resident of One Chicago, Bachelor Nation, and Cleveland. Has opinions about crossovers, Star Wars, and superheroes. Will not time travel.
Your Daily Blend of Entertainment News
Thank you for signing up to CinemaBlend. You will receive a verification email shortly.
There was a problem. Please refresh the page and try again.