Rick And Morty Co-Creator Dan Harmon Has A Completely Unexpected New Show In The Works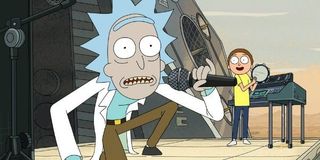 Dan Harmon has made a name for himself with comedy series like Rick and Morty and Community, and viewers can always count on him to bring the laughs in his projects. As it turns out, however, he has a brand new project in the works that sounds completely different from what he has worked on in the past. In fact, it doesn't sound especially funny at all. Harmon is working to adapt the Kurt Vonnegut novel Sirens of Titan for the small screen.
Universal Cable Productions has signed Dan Harmon of Rick and Morty and Evan Katz of Small Crimes to adapt Sirens of Titan for TV. The story would be set in the 22nd-century United States and follow Malachi Constant, who is the richest man in the country. He has so much luck that he considers himself divinely blessed, and he has used the luck to build his inherited fortune even larger. Constant ends up on a journey that will take him from his home on Earth to Mars as an interplanetary war threatens to break out.
Along with a Martian survivor of the interplanetary war, Malachi Constant travels to Mercury and then back to Earth, where he is set to be publicly shamed for his arrogance. He finally winds up on Titan, where he encounters the man who is responsible for the sequence of events that wound him up so far from home.
The Sirens of Titan show will be based on the Kurt Vonnegut novel of the same name, which was originally published in 1959. Despite the sci-fi nature of the plot (that just so happens to feature an invasion of Earth by Martians), the issues of omniscience, free will, and man's purpose in the grand scheme of existence are explored. This TV project marks the first time that an adaptation of the book has gone into development for the small screen.
Interestingly, various producers have looked into producing Sirens of Titan for the big screen over the years. Jerry Garcia of The Grateful Dead back in the 1980s was the first to buy the film rights of the book from Kurt Vonnegut, but he passed away before he could actually make the movie. Another producer purchased the rights after Garcia's death, and he attempted to make the movie for years before too much time had passed and he lost the film rights. As recently as 2007, an adaptation was in the works. Now, it seems likely that we'll never get a film version of Sirens of Titan.
The series is in production for UCP, although it is not known on which UCP network the series would actually air. While NBC and USA are both options, Sirens of Titan sounds like the perfect fit for Syfy. We'll have to wait and see.
It's too soon to say when we might get to see Dan Harmon's take on Sirens of Titan, but Rick and Morty will be back in the not-too-distant future. Check out our summer TV premiere guide to discover all the TV dates you need, and don't forget to swing by our rundowns of what has been renewed and what has been cancelled for cable/streaming and network television.
Resident of One Chicago, Bachelor Nation, and Cleveland. Has opinions about crossovers, Star Wars, and superheroes. Will not time travel.
Your Daily Blend of Entertainment News
Thank you for signing up to CinemaBlend. You will receive a verification email shortly.
There was a problem. Please refresh the page and try again.