Who Is Arrow's Vigilante? Here's What We Think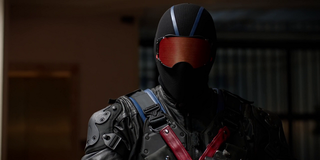 On a list of mysteries that have plagued the Arrow-verse for a while now, the identity of Arrow's Vigilante tops the list. Arrow showrunners have teased that Season 6 will reveal the Vigilante as someone fans know. So, in honor of the upcoming sixth season, here are the top characters we think could have an affinity for killing criminals and ski goggles:
Adrian Chase (...Sort Of)
It's an Arrow mind-blower that would almost be a rip off The Flash's Savitar reveal, but that doesn't mean it's any less likely. Seeing the face of Adrian Chase under the mask of Vigilante would definitely be a surprise to Oliver and the gang, and likely would shock most fans upon reveal as well. While the typical Arrow-verse M.O. would be to say "this is Earth-2 Adrian," it's also worth mentioning that the Adrian Chase of the comics has a brother, Dorian Chase. If Vigilante was Dorian, it was pretty messed up for Prometheus to toss his own brother off a building! In either case, this Vigilante identity would definitely be an antagonist tied to Oliver, as that seems who he was most concerned with before he disappeared.
Tommy Merlyn
Tommy Merlyn is one of those Arrow characters that it's almost shocking he hasn't returned in a bigger role. Actor Colin Donnell had great chemistry with Stephen Amell in Season 1, so who better to be Vigilante than Oliver's deceased best friend? While it would be a great Arrow storyline, it would have to be explained how Tommy went from being a shishkabob in a burning building to the fighting machine he is now. With Malcolm Merlyn confirming he believes Tommy is dead when he joined the Legion of Doom in Legends of Tomorrow, Tommy's return would have to be caused by someone else who brought him back or an Earth-2 Tommy. Either one would require quite a lot of story to tell and the return of a great actor in Donnell, so let's hope this is Vigilante.
Robert Queen (Earth-2)
First revealed via The Flash, it is now known that the Oliver Queen of Earth-2 is deceased. Instead, his father Robert Queen becomes The Hood and later The Arrow who protects Starling City just like his son does on Arrow. With Black Siren becoming a regular character on the series in Season 6, her presence leaves an excellent motive for the Arrow of Earth-2 to make the jump between worlds to track down the villain. Now, it sounds crazy that The Vigilante would actively attack his Earth-1 son if this is the case, unless Robert Queen is not actively aware his son is the Green Arrow. Even still, it sounds a bit crazy, but with all the crazy personas the multiverse has shown our heroes so far, is it really that hard to believe?
Deadshot
As far as Arrow fans know, Floyd Lawton (a.k.a Deadshot) is presumably dead. As fans of Arrow also know, hardly anyone important truly dies in the Arrow-verse. With all the crazy ways people have avoided death in this series, it sounds more than plausible that Deadshot survived that rooftop explosion and is now back in Star City killing criminals in some sort of twisted quest to right his past wrongs. There's also the fact that the combat abilities of Deadshot are that of the Vigilante to a T, and it's much more plausible to believe Lawton is wearing a ski mask and kicking ass than some other people on this list. Could it be that one of Arrow's greatest villains has returned to play the anti-hero? After Adrian Chase ended up being Prometheus, anything seems possible.
Captain Frank Pike
Captain Frank Pike is another commonly tossed-around suspect in regards to the identity of Vigilante, and it makes sense. Many Arrow fans are quick to point out the weird coincidence that Vigilante disappeared from the scene not long after Prometheus stabbed Pike. If that weren't enough, Pike is also a trained marksman thanks to years in law enforcement, and one can't be Vigilante if they can't shoot a gun. Finally, while Vigilante is far from a great person, fans have to remember that he seemingly has an invested interest in keeping the innocent civilians of the city safe. Perhaps Pike, a witness to all the action that's happened in Star City over the years, felt the world needed the Oliver of the past and decided to take matters into his own hands?
Arrow will return to The CW Thursday, October 12th at 9 p.m. ET on The CW. Fans can feel free to offer their opinions on who the Vigilante may be in the comments below. For a look at what else is on the way in terms of fall programming, visit our fall premiere guide.
Mick likes good television, but also reality television. He grew up on Star Wars, DC, Marvel, and pro wrestling and loves to discuss and dissect most of it. He's been writing online for over a decade and never dreamed he'd be in the position he is today.
Your Daily Blend of Entertainment News
Thank you for signing up to CinemaBlend. You will receive a verification email shortly.
There was a problem. Please refresh the page and try again.