The Punisher's Full Trailer Is Brutal And Pure Heavy Metal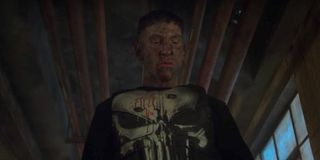 As soon as Frank Castle made his debut on Season 2 of Daredevil, it became pretty clear that The Defenders universe had a new fan-favorite character on its hands. Jon Bernthal seems tailor-made for the role of The Punisher, and all eyes are on his upcoming solo series to expand the deadly anti-hero in some truly spectacular ways. Now the first trailer for The Punisher Netflix series has finally debuted online, and it is equal parts brutal retribution and badass Metallica music video. Check it out below.
That's the type of trailer that makes you want to grit your teeth and headbang through the whole thing, isn't it? Although it is relatively light on the main plot details, this preview does an excellent job of introducing the world to a proper Punisher. We see Frank still coping with the loss of his family while simultaneously bringing his one-man war to the world of organized crime and evading law enforcement. Along the way, he teams up with computer expert Microchip, and he even has a few run-ins with Daredevil's Karen Page as he slaughters his way through the criminal underworld. Oh, and we finally get to see him wear the white skull as he blows people away, which is something many of us have been waiting to see.
As far as concrete plot details go, it looks like The Punisher is going to continue the plot thread of Frank dealing with his family's murder. He appears to still be investigating the case, which will give the story a much deeper emotional throughline. That said, we're sure there will be plenty of unrelated punishment as well.
We also can't discuss this trailer without addressing the absolutely perfect song choice. Metallica's "One" is a song about an injured war veteran praying for death in a hospital bed, and the translation to The Punisher is pretty perfect. Although Frank Castle's wounds are more emotional and psychological than physical, the idea that his time overseas (along with the murder of his family) has fundamentally changed him bleeds through every frame of this trailer. Couple that with the acoustic version of the song that opens the trailer, and it invokes memories of the Johnny Cash-themed Logan trailer earlier this year.
Then there's the editing, which is similarly excellent. This trailer has taken a page from the Baby Driver playbook in the way it blends music with machine gun fire, and it really sells the hard-hitting nature of the action in this series -- which is important, given how vital gunfights and brawls are to someone like Frank Castle's stories. If Jessica Jones is a noir detective story, and something like Luke Cage is an update of the blaxploitation genre, then The Punisher looks like the Marvel Cinematic Universe equivalent of a gritty, urban war story. Needless to say, we are completely on-board for it.
The Punisher will debut on Netflix later this year -- presumably sometime in the fall, though the exact date remains a mystery. As for the rest of the upcoming fall releases, take a look at our fall TV premiere guide for more info on all of the other small screen releases slated to debut!
Your Daily Blend of Entertainment News
Originally from Connecticut, Conner grew up in San Diego and graduated from Chapman University in 2014. He now lives in Los Angeles working in and around the entertainment industry and can mostly be found binging horror movies and chugging coffee.