The Unexpectedly Hilarious Way Outlander Delivered That Scene We've Been Waiting For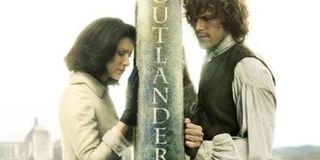 Warning: gigantic spoilers ahead for Episode 5 of Outlander Season 3, "Freedom & Whisky."
Outlander ended Season 2 on kind of a bummer as Claire went back to the 20th century and Jamie went off to almost certain death at Culloden. That said, we've always known that Jamie and Claire were going to reunite on Outlander at some point in Season 3. Outlander is the saga of these two characters and their love story, and it was really only a matter of when and how they would get back together. Well, "Freedom & Whisky" gave us our answer as the episode finally reunited Jamie and Claire after twenty years of pained separation. As it turns out, their reunion was surprisingly hilarious. Who would have guessed?
"Freedom & Whisky" was actually quite heartbreaking for much of the hour, as Claire and Brianna slowly came to terms with their impending split so that Claire could go back to the 1700s to be with her true love. While many viewers have probably been counting down the episodes until Jamie and Claire are finally back together, it wasn't easy to watch these two women who love each other very much face the fact that they might never see each other again. Fortunately, the heartbreak was replaced by levity once Claire made her way to Jamie's printshop in Edinburgh, circa 1768.
Claire had to work up her nerve to go into the shop and reunite with her husband after 20 years, not sure if he would still find her attractive or if he even still loved her. She walked into the printshop and heard Jamie yelling at her to bring a delivery, believing her to be somebody else. His back was to her and he kept at his task until she called out to him at told him that it was his long-lost wife who had returned to him, not his delivery boy. Tears of joy and excitement were brimming out of Claire's eyes as she finally saw Jamie again after two decades, undoubtedly hoping for an equally joyous reaction from him. Jamie turned around and met her eyes for a long moment... and then passed out cold on the floor.
If you were hoping that there would be swelling violins and golden rays of sunshine as two beautiful people ran toward each other in epic slow-motion for the big reunion, you were undoubtedly disappointed by Jamie fainting dead away at the sight of Claire back in the 18th century. I can't speak for anybody else, but I needed the laugh after the heartbreak of watching Claire and Brianna say goodbye for what could very well be the last time. Jamie literally swooning at the sight of Claire brought the right amount of lightheartedness to a hugely dramatic scene, and it was something many of us probably needed after the heaviness of the five episodes leading up to the reunion.
Besides, we'll probably get an epic romantic reunion once Jamie wakes up from his swoon and processes that Claire really is back and not a hallucination. The poor man had no way of knowing that he could possibly ever see her again, and he's from an age when witch trials still occasionally occur in his native country. Passing out at her sudden reappearance is a perfectly reasonable response, although that doesn't make it any less funny that big, strong, tough Jamie who survived years in heavy shackles without complaint fainted at the sight of a woman in a dress sewn out of raincoats.
Speaking of those raincoats, Jamie swooning wasn't the only slightly silly scene of "Freedom & Whisky." Once Claire made her decision that she would travel back in time, she had to deal with some practicalities, such as 18th century currency and dress. Brianna and Roger took care of getting her some coins that would be useful, and Claire took to sewing her dress with some special pockets to carry her various 20th century accessories. Roger made the joke that she would need to make her own utility belt like the Caped Crusader, which led Brianna to comment that he watches a lot of TV and for the next scene to be set to a pretty hilarious song: the theme song from the Batman '66 TV series.
Yes, Claire took to chopping up some raincoats to sew a 18th century dress while the notoriously catchy "nah nah nah nah Batman!" song played over the scene, and it was definitely an unexpected choice for a show that kicks off every week with a lovely version of "The Skye Boat Song." It was a choice that certainly took me by surprise, although not in a bad way. After four and a half episodes of tragic plot twist after tragic plot twist, I was perfectly fine with a a Batman-themed break in the tension before I knew Jamie was going to be swooning into a cliffhanger of sorts. Of course, Jamie did pass out after reuniting with Claire in the Voyager book, but there was no saying if the show would adapt that particular element of the story directly.
Now that Jamie and Claire are reunited, Outlander may begin to feel more like the show we came to know and love in Seasons 1 and 2. There are undoubtedly still some devastating losses to come, but at least the two leads will be together. We will unfortunately have to wait an extra week before we see what happens next, as the show will not be back for a new episode until Sunday, October 22 at 8 p.m. ET on Starz (opens in new tab). For your other viewing options, take a look at our fall TV guide.
Your Daily Blend of Entertainment News
Laura turned a lifelong love of television into a valid reason to write and think about TV on a daily basis. She's not a doctor, lawyer, or detective, but watches a lot of them in primetime. Resident of One Chicago, the galaxy far, far away, and Northeast Ohio. Will not time travel, but will sneak references to The X-Files into daily conversation.
Your Daily Blend of Entertainment News
Thank you for signing up to CinemaBlend. You will receive a verification email shortly.
There was a problem. Please refresh the page and try again.