Stranger Things Season 3: What We Know So Far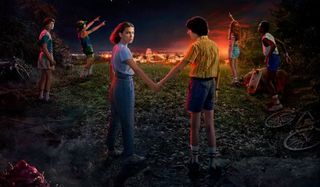 When Stranger Things debuted on Netflix in the summer of 2016, it became an almost instant phenomenon. The supernatural show, which is set in the 1980s and follows a group of pre-teens / teens as they battle evil, took the nation by storm with its delightful mixture of nostalgia for the sci-fi / fantasy tales of Steven Spielberg and the horror stories of Stephen King. Never have a telekinetic little girl who can barely speak, a group of D&D playing geeks, a monster with no face and a super shady government lab been cooler.
After Season 2 hit the service in October 2017, Stranger Things continued to be one of Netflix's most talked about shows, so it was no surprise when the freaky drama got picked up for Season 3 on the streamer. Here's everything we've learned so far about what's coming next to Hawkins, Indiana. And, we should start with the new trailer:
What Have We Seen From Stranger Things Season 3?
After a long wait, late March of 2019 finally brought us a gloriously full trailer for the new season of Stranger Things. While the storyline of the upcoming season is hardly completely laid out for us, we do get good looks at a lot of the action. And, it's little surprise that things in Hawkins will not go well once we begin to catch back up with our friends in the small town.
Everything starts off calmly enough (with the exception of Lucas getting hairsprayed in the eyes), but it soon becomes clear that there's more trouble brewing between the rightside uppers and the upside downers. Who knows if that giant antenna the kids put up actually has anything to do with the impending trouble, but even if it doesn't, how much longer until the whole town knows what's going on and just takes off for Indianapolis or some other location without man (and woman, child and cat) eating monsters who look like they've been chewed up and spit out by bigger, nastier monsters?
When Will Stranger Things Season 3 Debut?
As of mid August 2018, Stranger Things had only been filming on the next season for about four and a half months, but at least we can say when fans can expect to see the completed batch of episodes pop up on Netflix: July 4, 2019. While fans had certainly been hoping that Season 3 would show up sometime in the fall of 2018, the '80s-tastic teaser that was released in mid-July gave everyone the impression that there would actually be no new Stranger Things in 2018.
A couple of weeks later, Netflix confirmed that that would, indeed, be the case, as Season 3 was scheduled to drop sometime in the summer of 2019. Netflix's Vice President of Original Content Cindy Holland noted that the delay was due to Shawn Levy and the Duffer brothers' desire "to deliver something bigger and better than what they did last year. And so they really want to take the time to get it right." Season 1 debuted in the summer of 2016, so while it felt like a long wait, it will at least get us back on the original release schedule.
What Will Stranger Things Season 3 Be About?
So, what will the focus of Stranger Things be this time around? The short answer to that question right now is that we don't really know. As could be expected from a town with a precarious connection to the Upside Down and a pissed off deadly being like the Mind Flayer just waiting around to try and get another foothold in the town, there will undoubtedly be some crazy supernatural shenanigans going on that lead our heroes to take action.
And, while the Duffer Brothers have said that they don't intend to do a spinoff that focuses on Kali, the other known Hawkins Lab experiment survivor, they have said they might bring the character back. So, we might get more Kali in Season 3. Aside from that possibility, we'll just have to wait and see, especially since David Harbour has been cut off when it comes to show secrets.
Speaking of David Harbour, though, while the actor is now much more tight-lipped than he used to be, he has given us some hints at to what we might expect from Stranger Things Season 3. He has alluded to the season being very specific to 1985, the year that it will take place in, and noted that watching some of the popular movies from that year would probably go a long way toward preparing fans for the upcoming episodes.
Some big sci-fi and fantasy movies came out that year, so any (or all) of them could be influences for the next season. While he didn't talk specifics about those movies that will play a part in the season, Harbour did mention that the Chevy Chase comedy Fletch would, somehow, also be important to Season 3. So, it looks like we've got some work to do to piece together what might go down this summer in Hawkins.
How Many Episodes Will Stranger Things Season 3 Have?
While we don't have much concrete info yet on Season 3 of Stranger Things, we do at least know the episode count. It was recently revealed that there will be eight episodes in the next season, which matches up with Season 1, but is one episode less than Season 2. While that may seem like a huge bummer, let's all remember that what ended up being the extra episode of Season 2 took Eleven on the journey that led her to Kali and one of the most divisive episodes of the series to date.
So, maybe the slight reduction in episodes means there will be no one-offs that take us away from the main action in Hawkins, and also that we'll get all our favorite characters battling supernatural weirdos together the whole season long this time around.
Along with an official episode count, early 2019 brought us the titles of each episode, which, combined with the trailer, have led to some theories about where things might be going in Season 3. Here they are now, in order of course, for you to obsess over for the next couple of months:
OK, so we can make a few guesses based on the episode titles and what the trailer and a rat-filled teaser has shown us. "The Mall Rats" will likely deal with the kids experiencing the new mall for the first time and having their tiny, '80s minds blown. But, also, this episode might introduce us to that gang of rats we saw in the teaser.
Billy is working as a lifeguard, and is clearly popular with the ladies, but it sounds like one of these fine, young specimens will end up in the Upside Down by the time "The Case of the Missing Lifeguard" comes around. A brief image in the trailer shows Eleven trying to grab someone in the demented dimension but not being able to grab her, so...ugh, that chick is probably doomed. Say "Hi" to Barb for us.
"The Source," "The Birthday" and "The Bite" all sound super-ominous to me. And, Hot Take here, I think we might see Billy, who has a shower moment in the trailer when he's looking at an infected part of his arm with much trepidation, turn into that messy-ass creature that Jonathan comes across in the hallway. Poor Billy, we hardly knew ye as more than mean eye candy. Oh, well...
As far as "The Battle of Starcourt" goes, methinks the good townsfolk of Hawkins won't have to worry about that fancy mall taking business away from mom and pop shops for very long. Seriously, how many businesses have to become ground zero for monster murder fests before the whole town realizes what's going on?!
Hopper
Life hasn't been easy lately for Hawkins' Chief of Police. After helping to get Will out of the Upside Down in Season 1, Hopper was tasked in the second season not only with becoming a father figure to Eleven, but fighting even more supernatural critters and keeping Will from getting taken over by the Mind Flayer. Now that Hopper is officially Eleven's adoptive father, he'll certainly be even more invested in keeping her safe in Season 3.
It also looks like we'll get to see how Hopper handles some real domesticity, and it sounds like a very real possibility that he'll find himself with a love interest this season. Aside from that, we know that David Harbour, who plays Hopper, wants to see the show get into his backstory more or do anything that will let Hopper take out some of his pent up aggression by punching lots of bad guys. And, considering that there's a scary, assassin-looking guy roaming around, it seems he might get his chance.
Eleven
Everyone's favorite telekinetic teen had a very different arc from Season 1. While Mike was desperately trying to contact Eleven after her disappearance at the end of the previous season, we found out that she had been hidden away by Hopper in his granddad's remote cabin in an effort to keep her from being reclaimed by the new crew at Hawkins Lab. She spent quite a while locked up there, and was not happy at all about not being able to see Mike, or anyone besides Hopper, for that matter.
As a result, the two got into some heated arguments where Hopper learned that it's very hard to punish a kid who can move shit with her mind. When she finally broke his rules and left the cabin, not only did she locate her mother and aunt, but Kali, who taught her to harness her anger and would have turned Eleven into even more of a killer than she already is.
In the end, Eleven was able to save the day again by closing the rift between worlds, but the Mind Flayer is pissed and might now have its sights set on her when Season 3 rolls around. As if that weren't enough, she'll clearly have to go up against the new monster and try to save at least one lifeguard, but, she will get some girl time with Max when she's not hanging with Mike.
Will
Oh my goodness. Poor, poor Will Byers. Even after he finally got back home to the Rightside Up version of Hawkins and was no longer being chased by the Demogorgon, we knew that things were not going to be smooth sailing for Joyce's youngest son once he threw up an extra-dimensional slug during some creepy alone time in the bathroom.
And, sure enough, Season 2 of Stranger Things saw Will have recurring visions of the Upside Down that became more and more intense, as it was finally revealed that he was being used and slowly taken over by the Mind Flayer, who wanted (badly) to get into our world. It took a lot of work to get him free from that monster's control, but his friends and family prevailed.
The very good news for Season 3 is that the Duffer Brothers don't plan to have Will be the focus of all the supernatural craziness in town. So, while he'll still likely feel obligated to help solve whatever mystery awaits, he won't be in any more danger than his friends this time around. But, it does sound like Will and Mike will have some trouble, with Will's Upside Down inspired arrested development leading to some tension as the kids grow up.
Lucas
Most of Season 2 saw Lucas dealing with his annoying and disapproving little sister, Erica, and trying to connect with newcomer Max, which was made difficult not only by the boys' need to keep the events of the previous year quiet, but also by the constant scrutiny the new friends were under thanks to Max's step brother, Billy.
Lucas was able to finally win the redhead over by telling her everything about Will and the town (and then showing her proof that it was all real), and just in time for Max to really help the group overcome the season's supernatural obstacles. After surviving Billy, and some tricky life or death situations, these two danced at the Snow Ball, and shared a kiss on the dance floor, and it looks like they'll be a couple when Season 3 gets underway.
Mike
Mike had two main jobs in Stranger Things Season 2: trying to contact Eleven and becoming Will's main confidant as his issues with the Upside Down continued. While the early part of the season revealed that Mike hadn't given up on finding Eleven since she disappeared after stopping the Demogorgon at the end of Season 1 (he'd tried to contact her 352 days in a row with his walkie talkie), he was soon too busy to try once Will began seeing visions of the Mind Flayer and revealed just how messed up he still was to Mike.
Of course, it didn't take long for the fight to save Will to take over Mike's life once again, but, luckily, during this process Eleven showed up just in time to keep the group from getting killed by a pack of Demodogs. A couple of months later, Mike and Eleven also shared a kiss as they danced at the Snow Ball, so, hopefully, Season 3 will see the two closer than ever.
You know who's not going to be close, though? Mike and Will. The newly coupled teen really takes it out on his beleaguered bestie in the trailer, and it seems that two years of having to help save him might have taken a toll on their friendship. Plus, it doesn't help that Mike has had more mental space for regular old growing up stuff in the past two years, while Will has been dealing with Upside Down bullshit that's probably kept him longing for the simplicities of childhood.
Dustin
Poor Dustin. The boy took a bit of an emotional beating in Season 2. Not only did he make a pet of a dangerous Upside Down creature, and realize the error of his ways way too late to save the family cat, but his Three Musketeers-loving Demodog, Dart, died at the end of the season like the rest of his kind when Eleven closed off the portal to his dimension.
Luckily, Dustin managed to make a new friend in the form of Steve, and he was also back in the good graces of his friends by the end. The unlucky in love kid even got a new 'do thanks to Steve in time for the Snow Ball, and was treated to a spin around the floor from Nancy.
While we certainly hope Dustin now has some better instincts when it comes to picking up strange critters, it looks like Season 3 will still be a bit rough for him. His best buds Lucas and Mike both have girlfriends, while Will is wanting to reclaim the childhood he lost a few years ago. This means that, even though Dustin is obviously still close to Steve, he's probably going to be missing the core friendships from his younger days, and also wishing that he could find his own lady love.
Nancy, Steve And Jonathan
Nancy was on a mission in Season 2 to finally bring some peace to her friend Barb's parents and also bring the folks of Hawkins Lab to justice for setting the events in motion that led to the shy high schooler's death. And, with a lot of help from Jonathan, she was finally able to do just that. Luckily for fans who could feel their sexual tension all the way back in Season 1, their work on Barb's case led to the two having sex a few days after Nancy's breakup with Steve.
The final moments of the most recent season implied that Nancy and Jonathan were going strong as a couple, and that Steve was actually OK with her decision. Hopefully, this means that the three can actually be friends and continue to work together to help stop whatever strange-ass evil will be coming the town's way in Season 3. Maybe Steve will even find himself a new girlfriend before the season's over.
Joyce
The past couple of years have been tough on Joyce Byers. First, her son Will goes missing, then she realizes she can communicate with him through Christmas lights in her home, then she sees a monster and has to go to another dimension to get him back. Season 2 saw Joyce lose new boyfriend Bob after he heroically followed her into the living underground tunnels of Hawkins as she fought to keep Will from being completely taken over by the Mind Flayer.
Will seems to finally be out of the creepy, extra-dimensional monster woods, and Joyce and Hopper are growing ever closer. We don't know what Season 3 will bring for Joyce, but we do sorta hope that she can finally get a little bit of peace (and maybe some Hopper-lovin') in between whatever beast slaying she's bound to have to do.
Martin Brenner
Matthew Modine's shady scientist, Martin Brenner, was suspiciously absent from Stranger Things Season 2 after playing a huge part in the first season. We last saw his character getting attacked by a truly pissed Demogorgon in Hawkins Middle School right after Eleven and the boys were able to escape. This led to many fans thinking the character was dead, but, as astute viewers of sci-fi or fantasy (or, even soap operas, really) will tell you, if you ain't seen the body they probably ain't dead.
Season 2 saw former Department of Energy employee Ray Carroll tell Eleven and Kali that Brenner was still alive, and considering that Matt and Ross Duffer have said that they feel the audience deserves to actually see Brenner bite the dust, it sounds like that info is correct and we could very well see him make a return in Season 3.
Robin
By late August 2018, the only new character we'd gotten a look at was Robin (Maya Hawke). The first teaser for the new season brought us a glimpse of Robin, who will work in the Starcourt Mall food court at Scoops Ahoy with Steve. Robin is billed as an alternative girl who's not very happy with her boring life, but will soon find more excitement than she might be able to handle when she stumbles upon a big secret that was never meant to be known.
This character was called one of the new leads by a report in Variety, so it seems that knowledge of this secret will lead to Robin being around quite a bit in Season 3. And, sure enough, we do get to see that Robin will be involved in some (probably nasty and scary) Starcourt shenanigans with the main gang this season.
Other Characters
Now, here's where things get a bit divisive when it comes to the fans and Stranger Things characters. While new additions to Season 2 like Joyce's doomed boyfriend Bob (R.I.P. Literally...) and Lucas' little sister Erica eventually came out of the season as fan favorites, others like Billy and Kali were hated to within an inch of their fictional lives. Bob, obviously, will not be showing up again, but we do know that Billy and his sister Max will have significant roles this time around.
The Duffer Brothers have confirmed that Erica was also popular with the writers, and that while working on Season 2 they were constantly looking for ways to bring the character in more, but simply didn't have enough time to fit Lucas' annoying little sister into more of the storyline. From the tease we get of her in the trailer, it looks like Erica might actually play a real part in whatever monster-hunting missions the gang will surely get up to. So, you can count on Erica being around more in Season 3.
Kali was a major part of what ended up being the most hated episode of Season 2, "The Last Sister," which was Episode 7. In it, Eleven left the action in Hawkins behind to travel to Chicago to try to find the only other test subject of Brenner's that she knew of, and she found Eight, now going by Kali and hanging out with quite the band of degenerate criminals.
And, that was just fine with Kali, since she was, understandably, angry at being experimented on and had taken it upon herself to start killing anyone she could find who'd been a part of that program. She even tried to get Eleven to kill Ray Carroll, forcing the young girl to go to some dark places. The Duffer Brothers have revealed that they feel Kali's story isn't really wrapped up, so we might see her in some capacity in Season 3.
Recently, we've also learned that Season 3 will give us some new characters in Hawkins, as well. Mayor Larry Kline has been described as a handsome, smooth-talking politician who's also pathetic and self-serving, and I can already see this guy becoming Upside Down food at some point during the season. Kline will be played by The Princess Bride and Saw star Cary Elwes.
The kids will also befriend a woman in her 70s, Patricia Brown, who doles out advice as she works in her garden. Patricia could turn out to be an ally, but she's already getting the evil-Upside-Down-denizen-hiding-in-plain-sight side eye from me. Also, remember the missing lifeguard? Well, actress Francesca Reale will be playing a lifeguard named Heather who'll be involved in a "dark mystery" this season, so, yeah, sounds like she might be the one Eleven is trying to save from the Upside Down in the trailer.
Last, but not least, Stranger Things will introduce us to Bruce, a messy, overweight, sexist and morally corrupt reporter. Jake Busey (Starship Troopers, Ray Donovan) has signed on to portray Bruce. And, it sounds like this is exactly the kind of character who could survive the events of Season 3, while someone we've come to love bites supernatural the dust.
It's not long now until Season 3 of Stranger Things hits Netflix, so be sure to bookmark this guide for the latest info!
Your Daily Blend of Entertainment News
Yennefer's apprentice, Gilmore Girl; will Vulcan nerve pinch pretty much anyone if prompted with cheese...Yes, even Jamie Fraser.