New Girl's Jake Johnson Told Us The Name Of Nick And Jess' Kid, And It's Kinda Perfect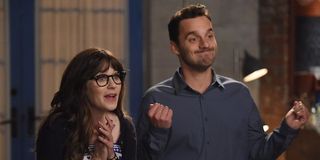 Last month, New Girls fans watched the end of an era with its series finale. The gang finally rode off into the sunset after seven seasons of loft-y adventures, and one of the biggest developments to come out of the final run was the reveal that Nick and Jess had a kid. Said baby was a huge moment for the fan-favorite couple, though the show did not reveal the name before it came to an end. To help solve that mystery, CinemaBlend recently caught up with New Girl star Jake Johnson, who actually revealed the youngest Miller family member's name to us, which was a tribute to the Chicago Bears. Johnson said:
So, there you have it, New Girls fanatics. True to the oddball nature of Nick and Jess' relationship, they decided to name their kid in honor of current Chicago Bears quarterback Mitch Trubisky. That was the official call of showrunner Liz Meriwether, and even though the name reveal wasn't made on the finale itself, it seems like we can accept that answer as canon. (Or "cannon," if we're talking quarterback arms, amirite?)
Nick Miller's love of Chicago and the NFL's Bears became a long-running joke throughout New Girl's run. The lovable misfit constantly referred to the team and the city throughout his life and times with Jess and the rest of the gang, so it makes sense to see him opt for a name paying tribute to his team. Personally, I would've named the kid Julius Pepperwood Miller, but Mitchtrubisky definitely makes quite a bit of sense. Trubisky's youth doesn't make him the most obvious choice for namesakes, but perhaps this was Liz Meriwether's delightfully coy way of telling fans that the Bears finally regained their Super Bowl glory in New Girl's future.
Jake Johnson clued us in on the Miller infant's moniker at the recent Tag press day in Los Angeles, and it wasn't overly surprising to learn that the Millers opted for such an offbeat name, as New Girl didn't ever shy away from bizarre baby names during its final run of episodes. Mitchtrubisky Miller is certainly hilarious in its own right, but Schmidt and Cece similarly opted for a fun baby name by naming their daughter Ruth Bader Parekh Schmidt in honor of Supreme Court Justice Ruth Bader Ginsberg. And let's not forget Winston's choice of "Danbill," which probably isn't a weird town in Connecticut. Now, with the show finally over, we're left to wonder what the playdates between Mitchtrubisky, Ruth and Danbill will look like.
Speaking of what things look like, you can watch Jake Johnson delivering the answer himself in the video below.
Now that New Girl has come to an end, we wish Nick, Jess, and Mitchtrubisky all the best with the rest of their lives. As for Jake Johnson, you can catch him in Warner Bros' upcoming comedy Tag, which opens in theaters later this month on June 15. If you want more information on all of the TV shows coming to the small screen in the coming months, then make sure to keep an eye on our summer premiere guide to learn everything you need to know about the new and returning series!
Your Daily Blend of Entertainment News
Originally from Connecticut, Conner grew up in San Diego and graduated from Chapman University in 2014. He now lives in Los Angeles working in and around the entertainment industry and can mostly be found binging horror movies and chugging coffee.